On Campus
Trade Food for Fines at AU Library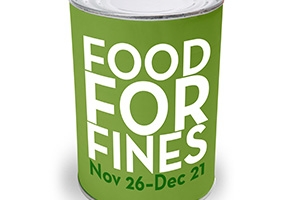 For the past 17 years, AU Library has partnered with local community organizations to bring food to those in need while giving students, faculty, and staff a break on their library fines. This year, the library is again working with the Capital Area Food Bank to bring food to hungry children and families in Washington, D.C., through the food bank's Back Pack program.  
Food for Fines will run from Nov. 26 to Dec. 24, and is open to AU community members. Please visit the library's borrowing desk to get a list of accepted food. Only food from the list will be accepted, and individuals can only pay off up to $20 of their AU fines with food donations. Drop off your donations at the Borrowing Desk on the first floor of the library.
If you have questions or comments, please contact the Borrowing Desk at 202-885-3221 or circulation@american.edu.
Food for Fines items accepted in 2012:
Canned food
Canned fruits (without corn syrup)—8oz or larger 1 can = $1.00 off fines
Canned vegetables—8oz or larger 1 can = $1.00 off fines
Canned beans (black or kidney)—8oz or larger 1 can = $1.00 off fines
Soup (especially chicken noodle or tomato)—8oz or larger 1 can = $1.00 off fines
Canned tuna—6oz or larger 1 can = $1.00 off fines
Canned chicken—6oz or larger 1 can = $1.00 off fines
Boxed/dry food
Boxed rice dishes—1 box 7 oz or larger = $1.00 off fines
Plain rice—1 bag 32 oz or larger $1.00 off fines
Boxed mac and cheese—1 box 7.25 oz or larger = $1.00 off fines
Granola or cereal bars—1 box 6ct or more = 4.00 off fines
Single Serving Snacks—1 box 8ct or more = $4.00 off fines
Peanut butter (no hydrogenated oils/trans fats)—1 jar 18oz or larger = $4.00 off fines