On Campus
Exploring disAbility as an Identity New Identity Workshop Brings People with Disabilities to the Forefront of AU Consciousness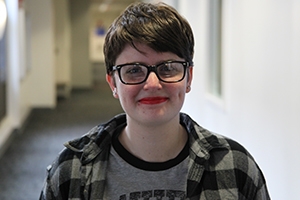 When junior Xena Itzkowitz sits at a table in Starbucks on campus, she easily blends in with the rest of the caffeine-craving crowd. On this day, she is has on a gray and black flannel shirt, cherry red lipstick, double-pierced ears, short brown hair, and black square-framed glasses.
Just like the typical AU student, Itzkowitz is very serious about her studies as she is double majoring in international studies and environmental studies Itzkowitz enjoys plays, concerts, reading comics, and movies like many early twenty-somethings.
After talking to Itzkowitz, you may find out that there is more to her than meets the eye. "I suffered a massive head injury eight years ago, which causes me some cognitive issues, memory loss, and PTSD," Itzkowitz said. Those issues make Itzkowitz, like 11% of U.S. college students, per the National Center for Education Statistics, as someone who identifies as a person with a disability.
Itzkowitz normally walks around with her trusty service dog, Leila. Leila was not present this day as she had a grooming appointment. Without Lelia, it is hard to see Itzkowitz's disability, something she has in common with a lot of people with disabilities.
"I look fine," Itzkowitz said. "That's why I had trouble in the past. It is hard to find community of people like me because many may either not want to identify with a disability, or may want to but not know how."
disAbility Workshop
The new Exploring disAbility: Access, Identity, and Inclusion, workshop is a joint effort between the Academic Support and Access Center (ASAC) and the Center for Diversity and Inclusion (CDI). The workshop, which will launch on Feb. 21, aims to help people view disability as a facet of diversity and identity on our campus, while also providing education on how to be an ally and advocate for individuals with disabilities.
This workshop was years in the making. "We attempted to put this program together for the last 3, 4, or 5 years," said Sara Bendoraitis, CDI's director of programming, outreach and advocacy.
"There have been five-to-six iterations of staff members that have gone through this model. We finally had some stability in our staff and a solid concept to move forward with this workshop," Bendoraitis said.
AU students have been advocating for years to give more attention to disability issues, according to ASAC counselor Meaghan Molineaux. "There was a group of students who were passionate about raising disability awareness." 
"Their efforts were the impetus for this workshop. This workshop is a way for disability to be included in the diversity conversation at AU."
A major obstacle for the students with disabilities at AU is that many are not aware they need support or know how to get it, and the Exploring disAbility workshop wants to help students with that. "We want people in the AU community to feel empowered and that they can come forward if they have a disability without feeling stigmatized," Molineaux said.
"We also want to make faculty and staff aware that there are people who have an 'invisible' disability. A huge portion of the students who document with us have learning disabilities, ADHD, or psychological disabilities."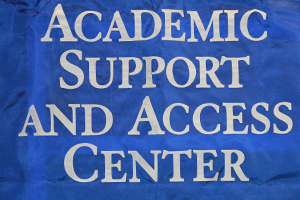 In addition to this first workshop, ASAC and CDI hope that disability and universal design concepts will become an increased area of focus in classrooms and conversations across the AU community. 
Each semester, the departments will jointly host an Exploring disAbility workshop, along with smaller forums to educate groups of faculty and staff members.
"A lot of faculty and staff do not have a good understanding of the Americans with Disabilities Act and how accommodations work on campus," Bendoraitis said. "I want everyone to at least have a baseline understanding of that. Knowing what the resources are and understanding there is a line we have to follow."
Ready to Lead
For Itzkowitz, who gave input on the program, the Exploring disAbility workshop is something she is excited the AU community is finally discussing. She hopes the conversation changes what people think a person with a disability looks like. "I am looking forward to the actual discussion. I know that sounds cliché, but discussion is important," Itzkowitz said. "Once we start talking about disabilities in an academic sense, I believe a lot of people will come out of the woodwork to acknowledge their disability and get help."
Itzkowitz is ready to embrace a role as a leader in the disability conversation in the AU community. "I am excited for this opportunity to advocate for myself and others because I waited for so long and was so quiet, so I am ready to be out in the forefront."
Register today for the Exploring disAbility: Access, Identity, and Inclusion workshop, on Feb. 21 at 1 p.m. in MGC 205.