On Campus
Family Week 2020 Brings AU to Your Home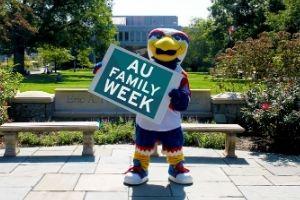 October at AU typically brings a change in temperature, midterm exams and, for many, a quick weekend visit with family during All-American Weekend.
But in a year of changes, AU's traditional event has also evolved. Instead of a weekend of crowds on the quad, it has expanded into a full week of experiencing life at AU in 2020 – including a conversation with one of the nation's leading thinkers and newsmakers, Anthony Fauci; a class live on DC television, dissecting the political campaign; and virtual tours, panels and contests.
The impetus for the change: in 2020, we all spend hours on our computers. Would families want to spend a weekend of surfing from one Zoom event to the other? Probably not. But they'd still like a living-room seat at AU's events, classes, and world-class speaker events.
Enter Anthony Fauci, up close and personal – 2020 style. As the Director of the National Institute of Allergy and Infectious Diseases, Fauci is one of the nation's foremost voices on COVID-19. He'll share his insights with the AU community in a live conversation hosted by the Kennedy Political Union (KPU) and moderated by President Sylvia Burwell.
KPU is AU's non-partisan, student-run, student-funded speakers bureau. President Burwell, of course, was Secretary of Health and Human Services from 2014-2017, working closely with Fauci. Families can sit in on their conversation at 7 p.m. on Tuesday, October 6.
Each day of Family Week brings a different way to engage with AU life, from the academic to the just plain fun. Here are a few highlights:
On Thursday, October 1, events kick off with panels on two very different but compelling topics: how to write that book you've been thinking about (at 1 p.m.) and the impact of the current pandemic on Black communities (6 p.m.)
On Tuesday, October 6, just ahead of the conversation with Fauci, families can lighten their spirits with Gilmore Girls Trivia Night, from 6 to 6:30 p.m.
On Wednesday, October 7, starting at 1:30 p.m., students and families can enjoy a virtual walking tour of the Don Myers Technology and Innovation Building and find out what STEM-focused student groups are doing to, as they say, "spread science, not germs this semester."
Later on Wednesday, at 7 p.m., President Burwell will update students and families on the ways that AU is meeting the challenges of 2020 and beyond in a live webinar, "AU Forward: Challenge Accepted."
On Thursday morning, from 10 to 11:30 a.m., check out the class broadcast live on TV – not just for AU families, but for all of Washington, DC. Students may log in from hundreds and even thousands of miles away, but they're still intimately connected to DC and its opinion makers, and this class is so timely it's on TV each week. Presidential Campaign 2020: Inside the Spin Room and the Newsroom (COMM-496) is led by Professor Leonard Steinhorn, a political analyst, strategist and historian who dissects the campaign weekly with his students, live on WUSA9's website and mobile app, along with DC anchor-reporter Bruce Johnson. Families can tune in to see what it's all about.
There's no question that this year's Family Week is different from a traditional balloon-and-spirit-filled Family Weekend. But while we miss the in-person connection, 2020's week-long event is a chance to be part of what lies at the heart of AU: academic excitement, engagement, and a passionate pursuit of life as changemakers.
Use #AUFamilyWeek on social media to show your AU Eagle Pride. For more about Family Week, including the full schedule, check out AU Family Week (October 1-11, 2020).
- Colin Colchamiro reported this story