Achievements
A Force for Change AU's Newman Civic Fellow Ammarah Rehman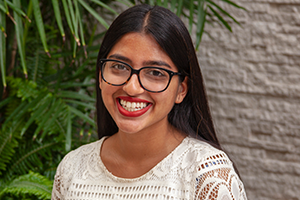 When you step into The Dav for your morning wake-up, your barista may be a nationally recognized change agent.
Meet Ammarah Rehman, a senior International Relations major and American University's 2018-2019 Newman Civic Fellow. The Newman Civic Fellowship recognizes and supports college students who are change-makers in their communities. That description fits many students on AU's campus, but even among her peers, Rehman stands out.
She has volunteered with D.C. Reads, led alternative break trips with the Center for Community Engagement Service (CCES), and helped Muslim students gain resources in her work as co-president of the Muslim Student Association (MSA). In all these ways, she's been a force for change. In the words of Harry Gilliard of CCES, Rehman is "a defender of what she believes."
Helping Muslim Students
Halal certified meat – meat that is prepared to Islamic dietary guidelines – was scarce at AU during Rehman's first year. Muslim would either buy tuna fish sandwiches from Subway or The Pod or bring their own meat. Wanting to see change, Rehman and her MSA colleagues launched a public relations campaign about that and other challenges Muslim students faced. In articles in The Eagle, the MSA talked about changes they'd like to see, such as their own office in the Kay Spiritual Life Center. That was a challenge for MSA because they're a student group, while other religious groups are affiliated with larger national groups that fund them. They also wanted larger prayer room to allow more students to pray together, especially during Jum'ah, weekly Friday prayers.
The MSA's tireless work paid off. Rehman and the MSA met with Fanta Aw, Vice President of Campus Life and Inclusive Excellence, and found solutions to their issues. Funding was found for the prayer room and office, and halal meat became available on campus after the MSA worked with administrators to ensure that meat in several locations are Halal certified. "It is our biggest accomplishment," Rehman said.
Ethical Volunteering
Rehman grew up in an Urdu-speaking Pakistani household just outside of Boston. "My parents were incredibly supportive and always encouraged my siblings and I to make an impact in the community," Rehman said. Her parents' inspiration led Rehman to CCES as a first-year student. She volunteered with DC Reads and then traveled to New Orleans for alternative break.
Rehman journeyed to New Orleans a second time for a program that analyzed the city's income inequality through the context of race after Hurricane Katrina. This time as group leader, Rehman noticed a volunteer culture that wasn't necessarily all about helping New Orleans residents. "New Orleans has volunteers year-round, and it's almost turning into a business," Rehman said. She advocates for ethical volunteering that involves listening and collaborating with residents in the community to improve the standard of living.
Giving Back to First-Year Students
Rehman has been grateful for the opportunities that AU afforded her, from alternative break trips to DC Reads to studying abroad in Morocco. She realized she wouldn't have tried these experiences were it not for the guidance of juniors and seniors. So when the newly-created AUx program needed peer facilitators, Rehman jumped at the chance to help first-year students. "I want to be a resource to other students on campus that might be struggling to fit in at AU," Rehman said.
Rehman's role as an AUx instructor is in line with her future goal to become a college professor. She wants to focus her research on South Asia affairs and eventually create policy that helps the region. One of her ideas is to encourage transnational corporations with factories in the region to pay for the education of their workers.
As for the Newman Civic fellowship, Rehman is excited to work with fellow change-makers from across America and share ideas on how to improve communities.
She was nominated by Gilliard and the CCES staff, and AU President Sylvia Burwell, who worked with Rehman on President's Council on Diversity and Inclusion, wrote a letter of recommendation that highlighted Rehman's work to make AU more inclusive. As Burwell put it, "Ammarah has helped us grow and stay true to our Statement of Common Purpose, 'ideas into action and action into service."