Achievements
From FARC and Food Stamps: An AU Student's Journey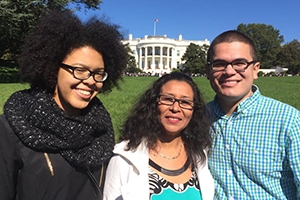 As the sun set over the small town of Caicedonia, Colombia, truckloads of machinegun-clad Revolutionary Armed Forces of Colombia (FARC) rebels rolled into town, and six-year-old Carlos Vera had no idea how his life would change.
"I wanted to scream," he recalled. "You never know what they're going to do."
The family slept under the beds of their ranch-style home that night, deciding the next morning they would immigrate to California. Now, 15 years later, if you ask the AU senior Vera about why his family left Colombia, he'll answer, "We had an incident."
That's because his life since has been a series of incidents—from living on food stamps to interning at the Executive Office of the President to joining the military—that have led him to become a standout success at American University.
Life Swap
Worries of rebels aside, the Vera family enjoyed a good life in Colombia, and they continued to do so once relocating to Los Angeles. One day, however, what Vera calls an "upper middle class" lifestyle came to an end as his mother fell ill.
"Life changed for me," he said. "It wasn't until that moment that I saw the other side of America, living in public housing."
Under mounting medical bills, the family lost their house and was forced to move in with an aunt in San Bernardino's public housing. Nine people crammed together in a three-bedroom apartment, where Vera had to sleep on the floor near a closet. For some time, the family turned to food stamps.
The series of trying events lit a fire under the teenage Vera, who dual enrolled in community college to finish high school in just three years. "I decided I would graduate early and get out so I could be less of a burden on my parents. I saw how much they struggled," he explained.
Vera, the first in his family to attend college, landed a place at AU with enough financial support to make it work—a chance to change his life again. "The way I saw it was that as soon as I was at AU, I was going to have the same opportunities as everyone else," he said. "I'd just have to take advantage of them, and I did."
Vera has certainly seized every opportunity that's come his way. He participated in AU's Summer Transition Enrichment Program (STEP), served as a peer educator and front desk staff for the Center for Diversity & Inclusion, worked in the International Student & Scholar Services office as well as for the School of International Service's Intercultural Management Group, and he landed a NASPA higher education fellowship last summer.
All this, and he could have graduated from AU in just three years, but instead he's chosen to pursue the School of Public Affairs' five-year bachelor's and Master of Public Administration.
Marching Orders
Still, even though he made it to AU and was succeeding, Vera realized he had two problems: finances and internships. As a permanent resident (but not a citizen) in the U.S., he was missing out on a lot of opportunities on Capitol Hill and in other government organizations. His solution? Join the Army Reserves.
Vera went on academic leave for the summer and fall 2012, during which time he completed basic training, including instruction for his role as a general mechanic, and he gained citizenship in the process.
For him, the experience has proved enlightening. "I already had a sense that I wanted to help others, but it was through the military that I learned what selfless service is," he said. "The military taught me to just do your part. You may not be the one at the front doing the shiny stuff, but just help. That really stuck with me."
Now, in his little spare time, he works with AU's growing veteran population to help translate military experiences into attractive, civilian resumes.

With his new citizenship in hand, he's found even greater opportunities. During his junior year, he secured AU funding as well as the prestigious Gilman Scholarship, both of which allowed him to spend a semester interning with the European Parliament in Brussels through AU's European Union in Action Program.
And he landed that internship he had hoped for, serving in the White House's Executive Office of the President this fall.
Staying Grounded
For all his achievements thus far, Vera's sense of gratitude has only grown. He points to the Career Center, CDI, and AU's Center for Community Engagement & Service among those who have enabled his accomplishments.
"There's always going to be someone here willing to reach out, help you out," he said of AU.
Those willing to reach out have also included the campus' Aramark facilities management employees, who Vera calls his "second family" and "support system." He invited several employees to a recent White House garden tour.
"The way I see it is that I'm paying it forward. I was given opportunities to come here, and I want to give back," he said.
At 20 years old and only three semesters removed from a master's degree, he plans to continue finding ways to give back, to ensure others have a helping hand when they experience "incidents" like those that have shaped his life. For now, he's just appreciative of how far he's come.
"Honestly, I don't think I'd be here at this moment without AU and these opportunities," he said. "For that, I'm forever in debt and grateful."