Student Life
Not Just Advocates But Activists: FSE 2015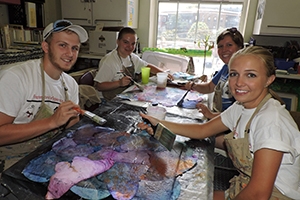 Entering the classroom was like wandering into a papier-mâché paradise. The clicks of scissors, paper crinkling, and laughter composed the chatter of a whole new language. The smell of hot glue and Mod Podge was the exotic scent of this inner-city haven. Its name is CentroNía.
CentroNía—a bilingual, multicultural learning organization—provided one of the locations for American University's Freshman Service Experience. At AU, many incoming freshmen chose to participate in a Welcome Week program, one of the largest of which was FSE. This year, some 500 participants and 98 student leaders ventured into D.C. with the aim of improving lives in the local community.
This year marked the 26th anniversary of FSE. With more than 10,000 hours of volunteer work at about 50 locations across the city just this year, the program once again proved successful. Many students left campus unsure of what to expect but returned with a rewarding appreciation for their work and the community they served. Many echoed the feelings of Pittsburgh's Emily Watkins, who said of her time at CentroNía, "I would come back here to volunteer, definitely! I love it already!"
FSE included five main social issue areas that students chose to work under, with options that ranged from Art for Social Change to Community Health. FSE does not end at the conclusion of Welcome Week, however. It catalyzes lives of service.
Former AU student and activist Deon Jones served as the keynote speaker for FSE's Opening Ceremony on Tuesday, Aug. 25. He inspired students with a story about his rocky beginning before becoming a powerful advocate for his community. Freshman Brionna Dixon of Alpena, Mich., was excited to hear his story, especially because Deon shared some of his challenges, like failing a class in college.
"I failed a class in high school and I struggled with it a lot," Dixon said. "I thought, 'If I can't get through Algebra 2B, how am I going to go on to help people?' It was interesting to hear that Deon had the same issues but still went on to be the youngest elected official in D.C. I find it really inspiring."
Darcy Brown of Maine, who volunteered at CentroNía, believes in the power of inspiration. She said in an email, "If more people heard the amazing things that are happening at CentroNía, they may be even more inspired to do something themselves."
Erin Thomas of Indiana reflected on her FSE group, which volunteered at the DC Center for the LGBT Community, said, "I was inspired to see so many people so passionate about what they do. It makes me motivated to work towards my passions." Although Thomas' passion wasn't centered on LGBTQ issues, she felt empowered by the group's energy to go make a difference in other issue areas.
Hannah Dorsey, another incoming student volunteering at the DC Center for the LGBT Community, had no idea when she signed up that she would be putting together safer sex packets. "Just the actual task of what we're doing may be uncomfortable, but sometimes you have to get a little uncomfortable," she said. "It has been very informative for me."
Some students arrived in D.C. already inspired to get involved. Joshua Kerobo of Cincinnati was influenced by John Grisham's novel The Street Lawyer and wanted to learn more about how to help the District's communities. "I've seen the monuments, I've toured D.C., but really helping the community that you'll be living in for four years—I feel like that's more impactful," Kerobo said.
At the opening ceremony, Jones explained his position on service: "[H]ow you live a meaningful life comes from a deep sense of awareness from who you are and why you are here. You are here to use your life for something bigger than yourself."
Ultimately, whether it was packing condoms for the DC Center for the LGBT Community or picking strawberries and raspberries with Bread for the City, FSE offered a variety of outlets for the characteristic AU activist spirit.
Back at CentroNía, the butterfly paintings created by FSE volunteers took life, prepared to fly away—perhaps just as the fledgling volunteers readied to embark on their own newly kindled callings.
FSE Press Corps members: Mackenzie Baker (Augusta, Ga.), Amanda Hodes (Lehighton, Pa.), Kelsey Paul (Bayonne, NJ)