Student Life
Gates Scholars Raise the Bar Students share their Gates Millennium Scholarship experiences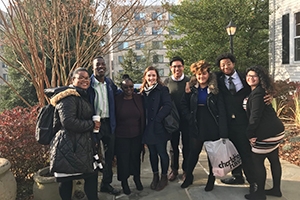 AU currently has 12 Gates Millennium Scholars Program (GMSP) recipients enrolled in classes. They have worked hard to create a community and make a name for themselves on campus.
GMSP was established in 1999 through a grant of more than $1 billion from the Bill & Melinda Gates Foundation. Since 2000, more than 20,000 students have been named Gates Scholars. Of those students, 54% are first-generation college students, with 14,677 completing their bachelor's degrees, according to GMSP.
"When I arrived at American University, I was excited to have the chance to meet with our AU Gates Scholars," AU President Sylvia Burwell said. "I sent a picture and note to Bill and Melinda Gates letting them know how their generosity not only changes lives, but the nation and the world through the leaders that this program produces."
The aim of GMSP is "to promote academic excellence and provide an opportunity for outstanding minority students with significant financial need to reach their highest potential." AU's Gates Scholars are great examples of how this scholarship can open new doors.
Beginnings
To get to know a few of AU's Gates Scholars, first you need to know about their backgrounds, including family expectations and being first generation college students.
Yamillet Payano, Senior, Economics and Mathematics major, minor in Mandarin
I am originally from Washington Heights in New York City, but grew up in the Dominican Republic. During my senior year of high school, my grandmother died. She never explicitly said it, but she wanted me to get an education.
Glorimar Barrios, Senior, Law and Society major
I was born and grew up in Miami. My parents emigrated from Nicaragua. Throughout high school and even now, college wasn't much of a topic in my household. Navigating the college process without parental guidance or just any guidance was hard.
Alberto Garcia, Senior, International Business major
My parents never went to school. They were both undocumented immigrants from Mexico. I think my dad came here when he was 18. He bounced between the U.S. and Mexico a few times before meeting my mom, and he brought her here to the states. My senior year plan was to work with my dad in construction and then eventually go to community college, then maybe go to state school.
Applying and Winning
The GMSP application is not for the faint of heart. "I applied three days before it's due date. It's a 20-page long application with a lot of essays," Barrios said. "The Gates Scholarship was really my bedrock on whether I would be able to afford to attend college. My parents didn't have a college fund or anything like that."
Yamillet Payano, CAS/BS '18
Payano's experience with the application was very similar. "Gates seemed daunting because it was so much work! I tried to complete it, but I was not going to make the deadline. Then Hurricane Sandy happened in New York and they postponed the deadline for a week, and that is how I was able to complete my application."
Garcia said that he was encouraged by his high school guidance counselor to apply. "It was a full ride to college, but it sounded competitive, so I did not want to do that. She told me to work on it over winter break, but I put it off until later," he said. "It was like working every day because I had to write a lot of essays that were three pages long and the questions were difficult."
Garcia's efforts paid off. "In my cohort, there were 60,000 applicants, and only 1,000 were awarded out of that pool-and I was named a recipient," Garcia said. "I did not see that coming. It was totally out of the blue."
Coincidentally, Payano was at AU when she received the life-changing news. "AU has a weekend for multicultural students to see the campus, and that was the weekend I learned I was awarded the Gates Scholarship." It turned out the application was just the start and that attending AU would be the next challenge. "I was proud but also scared in some sense," Barrios said. "It's very competitive, and I didn't know what to expect."
Attending AU
After completing the difficult application process, the next step was adjusting to college. Most college students have a tough time transitioning, but Gates Scholars' backgrounds often make the adjustment more difficult.
"There was a definite culture shock when I first came to AU. I remember being aware of my surroundings and feeling this was different from where I grew up," Barrios said.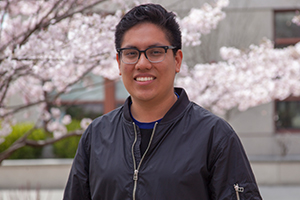 Alberto Garcia, Kogod/BA '19
For Garcia, the added difficulty of being a transfer student made his start at AU different than his Gates peers. "I literally didn't know anybody here. Everyone is already in their friend groups, and I was also far from home for the first time," Garcia said.
There was also the challenge of not feeling connected with fellow scholars . "When I got to AU, the cohort was not as together as opposed to the later cohorts," Payano said. "There is an element of, 'I can give you all this money and I can make sure that you don't have to think about financial aid.' But then where does that support come from when you're writing a paper and you're like, 'I don't know how to write a paper because my high school didn't properly prepare me?' It's very important to amplify the that Gates Scholarship cannot do it all on its own."
"Many scholars had trouble fitting in and feeling welcomed on campus," Barrios said.
This inspired Barrios to become a Gates Campus Based Leader to support her fellow scholars and disseminate information on how to access the resources they need to succeed. It also helped bring the Gates Scholars together. "I found out that there was a group of five from my cohort during my first year at AU, which brought me to the rest of the scholars. They have been my support group and have now become my best friends," Garcia said.
Meeting President Burwell
Creating a community amongst themselves and forging a path to success has helped the Gates Scholars gain recognition on campus, and some very important people have been paying attention. This past December, the Gates Scholars had breakfast with President Sylvia Burwell.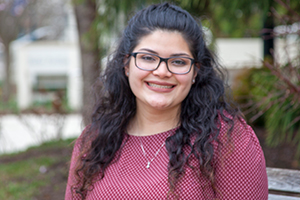 Glorimar Barrios, SPA/BS '18
"It was an eye-opening experience," Barrios said. "She really does have a lot of plans for this university, and we're proud to be able to have been part of the conversation."
Payano said that the Gates Scholars were not previously recognized in the way they are being acknowledged today. "I think that she's changing that, and I can see her doing a lot of great things for us in terms of exposure and supporting us. I honestly think she will help propel us forward at AU."
"President Burwell's support of the Gates Scholars will be key not just for today, but for the future. With the recognition on campus from President Burwell, as someone who had worked with the Gates Foundation, it's beneficial and provides support that we didn't have before," Barrios said. "And the benefit would be establishing our presence on campus and building a lifelong relationship."
Raising the Bar
GMSP has gone beyond providing an education for students in financial need; the scholars have become a symbol of success at AU. "The Gates Millennium Scholars are exceptional students who exhibit excellence and service. AU is very fortunate to have a group of committed and passionate change agents in the GMSP," Fanta Aw, Vice President of Campus Life & Inclusive Excellence, said.
Associate Director and Business Analyst for Financial Aid in the Office of Enrollment Sam Berhanu has formed a strong bond with many of the Gates Scholars. He assists the students in receiving their scholarship money and, in the process, has seen their growth from their first year at AU to today.
"They're some of the most ambitious students that I've had the privilege of working with these last few years. Each student's story is unique, and in that, I've maybe received more from them than they have from me," Berhanu said.
The scholars have not just become leaders on campus, but also important figures in their communities and in their families. Their determination to graduate from college has influenced younger family members to pursue their dreams.
"Since I am here, my sister is going to go to college. My cousins are going to attend college because I pushed them to go," Payano said. "I'm grateful because Gates literally changed the pages to come in my family and the generations to come."