Student Life
International Students Meet Nobel Laureate Malala Yousafzai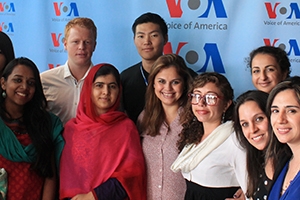 When Naila Mammadova heard she was selected to attend a private event with Nobel Laureate Malala Yousafzai, she couldn't believe it. Normally, she's not so lucky.

"I'm very bad at lotteries. I usually lose," she said. "That was a nice, unexpected present."

Mammadova—a graduate student from Azerbaijan in the School of Communication—was chosen randomly along with 19 other international students to see Yousafzai speak at the Newseum. It was an opportunity the Fulbright scholar won't soon forget.

Coming to AU, she knew she'd be seeing politicians and thought leaders both on campus and across the city. In fact, that access drew her to study in D.C. Participating in this experience on the heels of President Obama's visit to the School of International Service, however, Mammadova was more than impressed.

"I never expected that we would have guest speakers like Obama or a Nobel Prize recipient," she explained. "I expected to listen to interesting people, but not at that level."

At the private event of around 100 people, students enjoyed traditional Pashto music and poetry before the 18-year-old Yousafzai spoke and engaged in a brief Q&A on educational access for girls around the world. The Pakistani-born Yousafzai was honored with the 2014 Nobel Peace Prize for her advocacy, after becoming known for her blog on the importance of girls' education that made her a target of Taliban gunmen in 2012.

Like many others in the group from AU, Egyptian undergraduate student Shams El Adawy found great emotion in hearing the Taliban attack survivor speak. "It was great," she said. "I've always looked up to Malala since I heard her story . . . I read her book this summer. She's very inspiring to a lot of people."

International Student & Scholar Services associate director Kristina Thompson helped organize the outing after an invitation from the Voice of America, who hosted the event. She sees the occasion as one of many chances to be involved in global and intercultural conversations that students will have while at AU.

"I feel like the world is at AU, but even more so, the world is in D.C. Students really have an opportunity to engage with amazing people here, if they take advantage of it," she said. "There are an amazing number of things happening on campus."

For grad student Asvatha Babu, meeting the group from AU that attended the event provided great excitement in itself. In just her first week at AU, Babu found herself meeting students from as far away as Burma and Namibia—something rare back in her home of South India.

"It's awesome. It's completely new," she said. "You don't get people from completely different parts of the world where I'm from. . . . You don't have the huge culture gaps. . . . It was great getting their perspectives and stories."

Babu will have a number of chances to learn from others' life experiences, as AU features a vibrant population of some 1,700 international students and scholars representing 140 countries.

For Thompson, this set of high-achieving students from across the world is a valuable asset to all students—just as valuable as AU's proximity to such events and opportunities.

"It's a really diverse community," she explained. "They're people who are really engaged. People come to D.C. because they want do things like this. They're looking for internships, connections, and networking. They want to be at the center of all these things happening. That's true of all AU students but certainly of international students."

Mammadova couldn't agree more. Already taking advantage of AU's Career Center during the first week of the semester, she's a true go-getter. "There are lots of opportunities for networking at AU," she said. "It's a good stepping stone for building a career. . . . The university is a huge support to make a big jump into professional life."

Whether educationally, professionally, personally, or all of the above, international students are finding huge benefits at AU. Thompson promises good things are to come for these students, but she can't guarantee another Nobel Laureate.

"That's a once-in-a-lifetime opportunity. So, it was really nice to offer it to new international students on their first week," she said. "I told them that I'm not sure we can top it next week."



----



Are you an international student or a student interested in all things global? Then don't miss ISSS's Global Café. For the first four Fridays of the semester, come to Butler 4th floor 4-5 p.m. to meet students from across the world and enjoy delicious snacks.

Would you rather engage in the Language Exchange Program or intercultural TALK dialogue group? Go for it!