On Campus
An Interfaith Story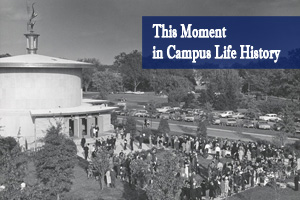 The 16-foot-tall bronze flame is often the first thing students notice when on campus. It sits atop a structure that, for the past 47 years, has in part defined the university's character. Since 1965, the Abraham S. Kay Center for Spiritual Life has provided a home for students of all faiths and beliefs, anchoring AU in its commitment to diversity, social justice, and the support of the whole student.

In 1961, local Jewish businessman and philanthropist Abraham Kay joined AU's Methodist president, Hurst Anderson, in the idea of building one of the nation's first interfaith houses of worship.

As Kay Center assistant director Christine Gettings describes, 1960s Christianity in America was experiencing a movement toward Protestant-Catholic cooperation, but AU – a university with deep Methodist roots – wanted something more.

"The barriers between different religious communities were breaking, and there was a lot of mutual cooperation and understanding," she says. "American University decided to take that a step further and build an interfaith center. Not just interfaith in the sense of Catholic and Protestant, but Christians and Jews, which for its time was pretty remarkable and revolutionary."

With generous donations from Kay, the local Catholic archdiocese, and the Methodist church, this interfaith chapel became a reality. A 1961 issue of The Eagle, AU's student newspaper, details the event announcing plans for the Kay Center – an event attended by the United States labor secretary, the governor of Maryland, the auxiliary bishop of the Catholic Archdiocese of Washington, and the ambassador of Israel.

Speaking of the revolutionary structure to be built, Anderson said, "My real hope is that this will become a symbol for interfaith relationship in the heart of the nation's capital. It will become an example for people of good will to work together."

The Center's now 24 faith groups, from Catholic to Hindu and Baha'i to Secular Humanist, prove strong testament to Anderson's words.

As the Kay Center built its diverse community, it hosted a number of speakers, chaplains, and events that have placed it at the middle of social justice issues over the decades. From Pakistani Prime Minister Benazir Bhutto to civil rights activist John Lewis and even Baha'i actor Rainn Wilson from The Office, visitors have reflected Anderson's desire for people of all walks working together both at home and abroad. The Center's Table Talk Lunch series consistently features panels discussing human cooperation and rights.

For university chaplain Joe Eldridge, it is this will to work together and pursue avenues of social justice that continues to define the interfaith space today.

"The people who have come have brought a prophetic message of justice into a troubled world and have presented a vision of the world in which the wounds are bound up and the binding up of our collective wounds can take place," he says. "Hope. I like to think that this place is about hope."

Being a forward-thinking community from its establishment, the Center has witnessed and participated in a number of historic movements and moments. When AU and Ward Circle were a hotbed for Vietnam-era political dissent and rallies, the chapel served as a refuge for protestors and its chaplains as draft counselors.

The chaplains roster featured one of the first women to be ordained in the Episcopal Church alongside a British Methodist chaplain from then Southern Rhodesia who went on to become the first president of the new nation of Zimbabwe.

While a Campus Life department, the Kay Center has also developed strong academic ties to the university. Methodist Chaplain Mark Schafer teaches a yearly course on Religious Heritage of the West. Chaplain Earl Brill started AU's American Studies department, while Eldridge helped found the Social Enterprise MA in the School of International Service (SIS). After an influx of students from the Middle East during the 1970s, SIS professor Abdul Aziz Said was instrumental in creating the Center's Muslim prayer room.

At a university with many students dedicated to studying international engagement, Gettings believes the interfaith experience in the Center functions as part of a truly well-rounded education.

"In our increasingly globalized world, it's important to understand religion," she explains. "It's important to understand the language that many people speak, and many people speak the language of faith. Just understanding how one's religious tradition shapes their world view, their political choices, what they feel compelled to act on."

The Center has also developed programs that send students out into the local, domestic, and international community to experience social justice issues at work, with many of these programs blossoming into core features of the university.

"A lot of things that are celebrated about AU had their genesis in the Kay Spiritual Life Center," Gettings says. "Specifically, the Center for Community Engagement and Service and the Alternative Break program started [here]. It's important to remember that we are committed as an institution to service and to justice and global education and global engagement."

After almost half a century of open doors, it's clear that the Abraham S. Kay Center for Spiritual Life has consistently found innovative ways to introduce people of different faiths and backgrounds to one another and allow them to work together, just as Anderson had hoped.

"There are a lot of organic, authentic relations that are created here because we occupy the same office," Gettings says. "We share space. One minute a Christian group may be meeting for a prayer group, and the next minute there might be Buddhist meditation. It's a very dynamic space. Things are constantly changing."

With new renovations recently completed, the appearance inside of the chapel has certainly changed. Still, according to Eldridge, it's the original message and purpose first stated by a local Jewish businessman and AU's Methodist president that will always remain, keeping the Kay Center – and its bronze flame – alive and at the heart of the university's commitment to social justice, diversity, and the support of the whole student.

"Hope," he says. "I like to think this place is about hope."




To read about the Kay Center's recent renovations and its re-dedication, check back after the event, which takes place on Thursday, September 6th at 4pm.