Student Life
KPU: A Student-Led Legacy, Part 2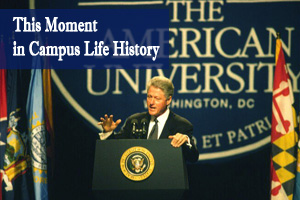 From the "This Moment in Campus Life History" series, the second half of this two-part article chronicles the story of AU's Kennedy Political Union – a student-run speakers bureau founded in 1968. To read the first installment and learn about KPU's beginnings, click here.


KPU President Alex Kreger recalls the moments before she stepped on stage and introduced President Bill Clinton to a packed Bender Arena in January.

"We were backstage while Dr. Kerwin was introducing him," she shares. "He put his arm around me and said, 'It's show time. Are you ready?' I said, 'Yes, I am, Mr. President.' It was a fun moment for me."

This semester's success with President Clinton's speech comes on the heels of recent visits by speakers ranging from General Colin Powell and It Gets Better Project creator Dan Savage to former New York City Mayor Rudy Giuliani. It wasn't without some struggle, though, that KPU came to its current accomplishments.

During the Vietnam War era, AU represented a hub for anti-war protests, making politicians on both sides of the aisle weary of angry students. An increasingly high number of small events also caused issues for KPU. By its thirtieth anniversary in 1998, the organization had welcomed 450 speakers to campus, draining attention from lesser-known visitors, like an entirely unattended event for Marion Barry before he became the mayor of Washington, DC.

However, these experiences weren't lost on KPU leaders, as they hit their stride in the 90's and 2000's, honing in on larger draws and fewer events. Since then, names like Buzz Aldrin, Archbishop Desmond Tutu, Mikhail Gorbachev, then-Senator Joe Biden, Former Secretary of State Madeline Albright, the Dalai Lama, and Benazir Bhutto have left their mark on campus as well as the KPU office walls.

"We want to bring speakers that will inspire people, speakers that cause people to think about situations in different ways or really be introspective on the way they think about things," Kreger explains of the high-caliber mix of guests.

Current Connection

This year, Kreger expects to host about eight events. Her most recent brought Republican National Committee Chairman Reince Priebus to campus, where students found a learning opportunity that also showed the university's strength.

"Our student body is incredibly politically active and very politically knowledgeable," Kreger says. "You could see that in the question and answer session with Chairman Preibus. There were detailed questions about the intricacies of recall elections and running the RNC. We have speakers walking away just being very impressed with the quality of questions they get at AU."

It's this level of interaction and discourse with speakers that has defined and continues to define KPU. When creating the organization, Luiz Simmons hoped he would be "integrating the speaker forum into a situation more like that of the classroom," reported The Eagle in 1968. To expand that level of discourse, early KPU leaders even compiled previous speeches into books. The profits from book sales funded scholarships for student research.

While KPU doesn't offer scholarships today, the organization continues to maintain a tradition of bringing consistently compelling speakers to AU. In a way, it's a cyclical kind of tradition. One former director, Jim McGovern, went on to become a member of the United States House of Representatives and in turn spoke at KPU's 40th anniversary. For a time, KPU's first director Tom Block did not realize the organization continued and thrived without him. He has since reconnected with KPU, taking each new director out for dinner – including Kreger.

A Challenging Legacy

As she sits in the KPU office, surrounded by the legacy of past speakers and the student leaders who brought them to campus, Kreger considers her contribution to the organization and its campus impact.

"My goal is to bring speakers that really resonate with students," she says. "I think we saw that with President Clinton. I checked Facebook that night and saw a friend of mine had written something like 'President Clinton has really inspired me to chase my goals,' and that's exactly what we want."

So, while KPU continues a tradition of bringing speakers to campus, it also represents a tradition of students pursuing those avenues that will challenge and inspire themselves to great heights. It's an organization made by students, for the betterment of students. For that, if for no other reason, KPU will always be a defining feature of American University.


List of KPU's high profile visits.


Follow KPU on Twitter at: @AUSGKPU.