Student Life
KPU: A Student-Led Legacy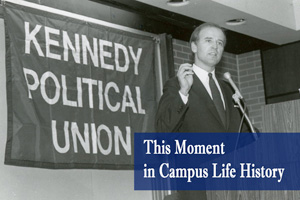 Alex Kreger sits back in the Kennedy Political Union office and admires the walls. They're covered with posters of speakers that the student-run organization has brought to campus in recent years.

"The legacy of KPU is incredible," she says. "Some of it's on these walls, and just seeing those pictures of folks that have come...It's an honor for me to be a part of this organization and work in this office."

After just five months as KPU's director, the sophomore from Colorado has joined that legacy in a big way, welcoming President Bill Clinton back to campus last month.

More than 3,000 people filled Bender Arena to hear President Clinton speak and answer questions from students. Standing in front of the KPU banner for the second time, the former president once again took part in an AU tradition that dates back to 1968, when one student – like Kreger – had an interesting idea.

Student Start

Running for student government on any campus can be a tough task. Each candidate is looking for something to set him or herself apart from the rest. As it turns out, this drive to stand apart can have a lasting impact.

In the pre-Student Government days of 1968, Luiz Simmons campaigned for the Student Association presidency at AU. As part of his platform, he presented the Kennedy Political Union – named in honor of the Kennedy family's service to government and society – as a "more egalitarian" approach to taking advantage of Washington DC's wealth of speakers.

Appealing to students in the School of Government and Public Administration as well as the School of International Service, Simmons won the election and established KPU with sophomore student senator Tom Block as its first director.

Block and his budding office secured their first speaker for September 16, 1968 – former presidential aide and speechwriter Theodore C. Sorenson, who had written John F Kennedy's famous 1963 speech "The Strategy of Peace" for AU's commencement ceremony that year.

Sorenson's visit kicked off KPU's first season of speeches, given by 25 prominent journalists, politicians, and advocates including William F. Buckley and Adam Clayton Powell. At the end of a strong start for the organization, AU's student newspaper The Eagle forecasted that "the KPU will not die after this year."

Forward to Reverse

Now in its 44th year, KPU thrives with little sign of slowing down, having hosted not only Clinton but other speakers that include musician and education advocate John Legend, Secretary of Homeland Security Janet Napolitano, and CNN correspondent John King this year. 

"It's just kept growing stronger," Kreger says of her organization. "The past student leaders in this position have done incredible jobs at showing what KPU can do. Because of that we've gained credibility and have continued to bring better and better speakers."

Aside from landing the organization better speakers, KPU's credibility has also won it honors from outside the university. In 1997, KPU beat out speakers bureaus across the country to win the International Platform Association's top award for best student speakers program.

The award – as well as KPU's regarded reputation – stems from a student commitment to excellence, as well as an ability to secure speakers who have helped shape the country and the world.

Senate Judiciary Committee members Howell Heflin and Strom Thurmond spoke on campus just before and after Clarence Thomas' controversial confirmation process to the United States Supreme Court. This year KPU named President Clinton the inaugural "Wonk of the Year" as he campaigns to address pressing issues across the world.

With its finger on the domestic and international pulse, KPU has endured troubled times to keep itself a relevant, compelling facet of the AU experience.




To hear more about KPU – from its early struggles to its former director turned visiting speaker – check back next month for the second installment of the "This Moment in Campus Life History" piece.

List of KPU's high profile visits.

Follow KPU on Twitter at: @AUSGKPU.