Student Life
Leading the GLC Forward Graduate Leadership Council president shares how the council stepped up support for grad students this year.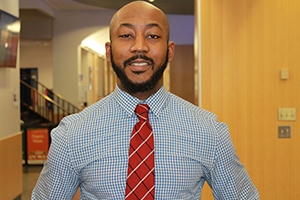 American University students seem to always be on the go—heading to class, the library, an internship, or a volunteer opportunity in the community. The same is true for AU graduate students, although often with added challenges of a full-time job or family responsibilities. Graduate Leadership Council (GLC) President Gordon-Andrew Lee Fletcher is no exception. The Jamaican-born, Yonkers, N.Y., native jetted from his federal government full-time job to have this conversation right before his evening class.
The GLC is the student voice for the 3,800 graduate students at AU. "We gotta take care of the grad students," Fletcher exclaimed in his deep New York City accent, pounding the table.
Taking Care of Our Graduate Students
His passion for the plight of the AU graduate student led him to pursue the position of GLC president. And Fletcher's first task was reshaping the organization. "To change any organization, you must change the infrastructure first," Fletcher said. That change started with the GLC executive board attending a Student Government Association national conference last summer and learning how to better serve their constituents.
"One of the things we learned was that we should move up our election deadline. Last year the election was in May. That is a tough time to transition as everyone is already in summer mode," Fletcher said. "This time our election has already started and we will have our new GLC together in March, and they can start planning for the next year between April and May."
Fletcher also pushed a change to the physical dynamics of the GLC office in the Graduate Research Center on the lower level of the AU Library. "We gutted the office and brought in new furniture for the next GLC. It's an awesome space," Fletcher said.
While changing the office space and moving up the election is a good start, Fletcher and the GLC crafted an ambitious agenda for the year around raising awareness and visibility of the organization. With those priorities in place, the GLC refined old programming and created new events that matched its stated goals. The GLC hosted their second annual graduate involvement fair on the quad with more than 30 organizations. They put an emphasis on health and wellness for graduate students by offering free massages during midterms and finals.
The GLC also helped graduate students look more professional. "Grad students are about professionalism and getting to the next level for their career. So, we provided grad students with free, professional headshots," Fletcher said.
After the U.S. presidential election, the GLC also focused unity among students. "We had a post-election program on inclusiveness. We wanted to understand both sides as adults. Whether you support Trump or not, we wanted to have both sides come together to work together," Fletcher said. They also created two initiatives—the Diversity Hotline Project and the GLC Travel Grant.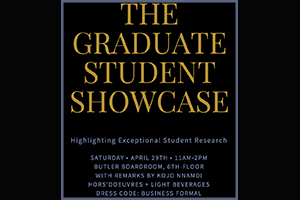 On Saturday, April 29, the GLC will host its first Graduate Student Showcase. "The Graduate Student Showcase is to highlight the work that graduate students do to get noticed. We want to make sure we honor and recognize them," Fletcher said.
Along with programming, Fletcher and the rest of the GLC formed strategic partnerships on campus. They co-sponsored the Red Dress Gala with the Kogod Women in Business to benefit the American Heart Association. "We also built a good relationship with President Kerwin and Dr. Hanson. Dr. Hanson made sure to come to our events and our meetings. We established a relationship with the Board of Trustees as well," Fletcher said.
The success of this year's GLC came down to a strong team. "The entire GLC executive board and Graduate Student Council (GSC) Presidents, and our advisor Calvin Haney, all helped to make sure we had a successful year. Everyone knew their role and responsibilities and executed—times 10," Fletcher said.
Loving the Pressure
While Fletcher has immersed himself in transforming the GLC, it has not taken away from his work away from AU. Fletcher is a licensed attorney in Maryland, and an elected official in D.C., representing the Fort Totten neighborhood for his Advisory Neighborhood Commission (SMD 5A08). "I love the pressure and responsibility of being an elected official. People are looking to me for support, direction, information, and I do not want to let anyone down," Fletcher said.
Fletcher gets through his many obligations by following his father's advice. "One thing my pops told me is to write everything down. If you don't take time to put it to paper, it's easy to get distracted by the distractions around us with emails, our phones, etc.," Fletcher said. "It's all about time management. I cannot emphasize that enough, along with prior proper planning."
Join the GLC for their Graduate Student Showcase this Saturday, April 29 at the Butler Boardroom from 11AM to 2PM. To keep up to date with the GLC, visit https://auglc.info.