Student Life
Masons' Generous Gift Supports AU Veterans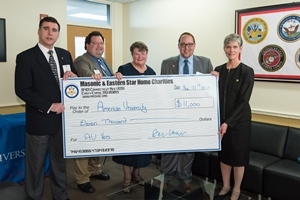 AU staff and faculty always have students' successful transition to college on their minds. As associate dean for orientation, transition, and retention, Marianne Huger Thomson heads programs that welcome hundreds of students to campus each year.
Lately, she's been thinking about a specific student population: veterans.
"We're trying to find ways we can smooth out the process for student veterans, who certainly have a much different transition than students who are coming straight from high school," she explained.
The Freemasons have stepped in to help with doing just that.
A financial gift from the Masonic and Eastern Star Home Charities will fund a year-long graduate assistant position that will research best practices in higher education support for veterans, execute programming around those findings, and leave AU with a roadmap to better support student veterans.
Alumnus Joe Vidulich, SPA/BA '08, is a brother in the Mason's Tenleytown Singleton Lodge. As a member of the university's Alumni Board, he hoped to foster a stronger relationship between the Masons and AU, particularly in relation to veterans, who figure large among Freemasons.
"When the opportunity was to give to a cause that's near and dear to our hearts, we thought it would be a natural fit," he explained.
Veteran Voices
Thomson believes the Masons' gift will provide a valuable addition to AU's already solid community of care. She chairs the Veterans Liaison Network of staff and faculty ranging from the Career Center staff to academic advisers—all dedicated to helping veterans succeed at AU.
For her, what benefits veterans really benefits the entire AU community. "I really see veterans as an aspect of diversity," she said. "Having that voice on campus being heard is important to all students because it's a really different perspective. It's not just important for the veterans. It's important for all students."
And Vidulich can't agree more, as he sees AU's increased attention to incoming veterans as another way the university seeks to change the world for the better.
"American University has a long history of making a difference in the lives of society and the country. When we have people come to campus who have served with dignity and pride, it says something that the university and the greater community—in this case the Masons—take an interest in supporting them," he said.
Campus also boasts an active student organization, AU Vets, which works with Thomson and the VLN to further veteran causes. Aside from arranging charity drives and networking social hours, AU Vets hosts events to promote dialogue between veteran and civilian students around military issues.
With so much on the plates of both AU Vets and the VLN, Thomson is grateful for the new graduate assistant position that the Masons have made possible. "We don't often get a chance to step back and look at things because we're so busy with the day-to-day. This grant really gives us a chance to," she said. "This grant allows us to go to the next level and add a lot more strategy to how we're supporting our veterans and influencing our community."
A Deep History
For Vidulich, the Masons' generous donation speaks to a deep, perhaps lesser known, piece of AU history.
"I think this is about solidifying an already strong relationship between American University and Freemasonry. It wasn't too long ago when we laid the cornerstone at the new SIS building," he said. "For us, this is about a relationship that goes back many years."
In fact, Freemasons have endowed a number of scholarships at the university through the years, and some were involved in the very founding of the university back in the late 1800s. The Glover family presided over the Tenleytown chapter that Vidulich calls his own; the same Glover is on the main gateway to campus. And a number of AU faculty and alumni have gone on to join the order.
So, just as Thomson keeps transitioning groups like student veterans on her mind, Vidulich and the Masons will be keeping AU on their minds. For Vidulich, this gift may be just the beginning—a relationship developing between two like-minded organizations.
"We hope that this spurs more involvement and collaboration. Part of what Masonry is about is making yourself and your community better, and that fits into AU's mantra," he said. "It's a very similar kind of benevolent action."