Achievements
New Partnership Reinforces Focus on Student Wellness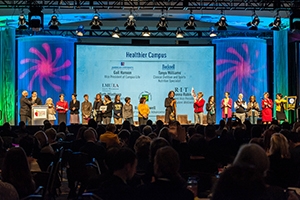 Eat by Color
Jo-Ann Jolly spends a lot of time observing student eating habits in AU's Terrace Dining Room, and she likes what she sees.
"When you look at everyone's plates in TDR, they have multiple colors on it, which means they're eating different fruits, vegetables, foods," she explained. "When I go to other campus dining halls, you look at people's plates and it's all one color—brown. Or pizza-colored."
As AU's Aramark dietitian, Jolly sits at about eye-level with students' plates as they pass by her desk in TDR. The colorful food options she sees haven't happened by accident. AU's dining has consistently received national attention for their vegetarian- and vegan-friendly offerings. A new commitment with the nonprofit Partnership for a Healthier America—an arm of First Lady Michelle Obama's Let's Move! Campaign—is only further cementing that campus-wide focus on wellness.
Through its Healthier Campus Initiative, PHA invites universities to meet 23 guidelines developed by national experts around nutrition, physical activity, and student-centered wellness programming.
When Jolly first heard about the criteria, she knew AU already was a match. "AU does that, AU does that. If dining doesn't do that, I'll make it happen," she said of first reading the requirements, which range from healthy meal options to having an accessible fitness area and marked walking trails on campus.
"I was just getting really excited," Jolly recalled. "We might as well get credit for things we are already doing."
Healthy Affirmation
As part of the commitment to PHA, Jolly attended the organization's recent summit and new partner announcement in downtown Washington, D.C.
Director of the AU Wellness Center Tessa Telly and vice president of Campus Life Dr. Gail Hanson joined her, mingling with representatives from other universities and health organizations before enjoying a keynote address from the First Lady.
With her department overseeing wellness programming for the entire campus, Telly echoes Jolly's sentiments on the new deal, while also noting the guidance it provides. "It just confirms that AU cares about student health," she said. "For those objectives in there that are aspirational, it gives us a roadmap of what more we can do."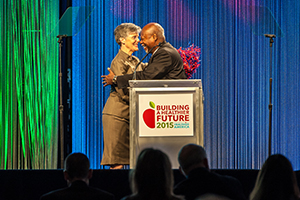 For all that AU does and plans to do better, PHA recognizes these moves as crucial to a healthier future for the nation.
"Colleges and universities like AU are in a unique position to help shape tomorrow's leaders, whether they are teachers, coaches, policymakers, CEOs, moms or dads," said PHA CEO Lawrence A. Soler. "By creating healthier food and physical activity environments today, campuses and universities are encouraging healthier habits that will carry over into tomorrow."
Attention, Attention
The connection with PHA comes at a time of increased attention to issues of wellness on campus. Both Jolly and Telly sit on the newly formed Wellness Committee, which also brings together members from Recreational Sports and Fitness, the Library, and the Counseling Center for cross-campus collaborations.
Similarly, the university's Stress Management Group is looking for ways to decrease stress and anxiety among students often swamped with studies, work, and internships.
"There's focus and momentum. It's a good time right now," Telly explained. "We want to be able to say that, when students leave here, we were able to provide them with the skills and information to live happy, healthy lives beyond AU."
Toward that skill building, Jolly leads tours through TDR and holds one-on-one nutritional counseling with students. Though not in her job description, high student demand has her teaching both healthy eating and cooking workshops in the residence halls.
For such an emphasis on health and wellness, AU stands out nationally as one of just several dozen higher ed institutions partnered with PHA.
"It's cool to be a part of it, to be a part of this select group of people who are really changing things for the better," Jolly said.
For her, AU particularly shines when considering the many pizza-covered plates she's seen at other university dining halls. She looks forward to TDR's summer renovations that will create a cafeteria even more focused on green, fresh options and increasingly more colorful student meals.