Student Life
Off-Campus Eagles Offer Neighborly Advice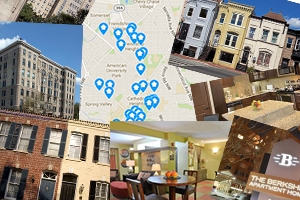 Apartments, row houses, English basements—from Washington, D.C., to Virginia and Maryland, AU students dwell in many places besides the campus' residence halls.
Moving off campus for the first time can be both exciting and daunting, an exciting milestone of sorts. With that in mind, AU provides students with a number of helpful tools, from an engaging, 1960s-era instructional video on being a good neighbor to a frequently updated online list of vetted housing options.
"The resources AU offers our students really sets us apart from other universities in the area," said Christina Medico, coordinator of off-campus and guest housing with AU's Housing & Dining Programs.
Her department hosts a new in-person orientation as well as a semesterly newsletter, both of which educate students on their rights and responsibilities as tenants in the D.C. community. Spring's Off-Campus Housing Fair draws hundreds of students to meet dozens of area property representatives.
Even still, it's nice to get the inside scoop from students already living off campus on what that move is like and a few things to keep in mind for a smooth tenancy.
Howdy, Neighbor(s)
"Know your neighbors. When you're on campus, your neighbors are other students, but when you're off campus, they're likely not," said Naomi Hill, a first-year masters student in the School of International Service. "Be professional with having guests, and make sure you're not disturbing other people."
Going That Distance
"Transportation can get difficult, especially if you live far away. You have to either learn the bus schedule or train yourself to wake up earlier. . . . Don't procrastinate because you don't want to run to the library in the middle of the night to finish or print something," said senior finance major Saida Khamidova.
Know Your Role
"Know your place in the community. You're no longer a college student; you're a resident living in the larger Washington, D.C., community. It's important to let your neighbors know that though you are a college student, you are also their neighbor, you'll be respectful, and you want to enjoy the community just as much as they do," said SIS junior Zachary Cole.
Constant Companion
"When you went home to a dorm, you had everyone on your floor and you could go to different floors easily. When you go home to your roommate, you want to have a person that you enjoy being around because that's the person you end of spending the evening with a lot of the time," explained public communication junior Greta Gustafson.
The Right Stuff
"Storage and a water filter," said Hill of her most important items. "I typically have trunks. Once you're off campus, you move around a lot. The trunks have wheels, they're good for storage, and they look good. At the same time, they're easy to move."
Going Green, FTW
"Try not to leave your water running," Khamidova explained. "One of my neighbor's apartments got flooded because someone upstairs left their water running. So, make sure you turn off the water, the stove, the lights."
Workin' It
"As a student worker, you have to plan your schedule around leaving your apartment. I try not to go back and forth a lot," said senior political science student Molly Kepner. "Once you start going back and forth between campus and your apartment, you miss out on a lot. You miss out on valuable time you could be on campus doing important things."
Berks & Beyond
"Look at different places than the traditional options you hear about," said Gustafson, who found an apartment central to transportation, restaurants, and a supermarket. "I come to campus once a day, but everything else I need is around my apartment building. Even though I'm farther away, I have everything else."
Payout Day
"Mark your calendar for the dates because if you forget to pay the rent, some apartments will really kick you out in the literal sense. One of my neighbor's stuff—his furniture, clothes, everything—ended up on the street because he didn't pay his rent," Khamidova said.
Stay True to AU
"Keep involved on campus," Cole reminded his fellow off-campus Eagles. "Once you move off campus, it can be easy to become a little detached from the AU community. Living on campus, you're involved in it 24/7, but as soon as you move off campus, you're gone for a lot of the day. Keep yourself on campus and involved."