Student Life
For Grad Student, Priestly and Diplomatic Inspiration in Pope's Visit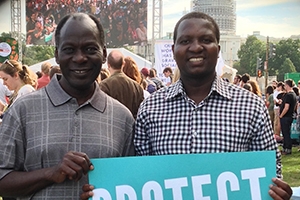 When Didace Kamana went to the National Mall last week, he didn't wear his collar.
He stood amongst thousands of people, many of them tearful as Pope Francis spoke from the Capitol Building. Both a Catholic priest and first-year graduate student in AU's International Peace & Conflict Resolution program, Kamana found the experience profoundly moving.
"It reminded me of the purpose of my ministry—to see people's faces, hear their stories, and do something," he said. "When I look at my commitment, the pope is inspiring me to know people . . . to share with their suffering and their joy."
Originally from Rwanda, Kamana came to AU this year after finishing a master's in theology at Chicago's Catholic Theological Union. In his seventh year as a priest, Kamana's arrival at AU coincided perfectly with the pope's historic first visit to the United States.
Dozens of other AU students attended the papal events in Washington, D.C.—from the Holy Father's congressional address and White House welcome ceremony to mass at the nearby Catholic University of America, which Kamana also participated in.
Given his background and vocation, Kamana drew unique insight from the pope's words.

"As a young priest, Pope Francis is inspiring me to be a good leader and to engage in dialogue—to be open to other religions, to other people," he explained. "I look at other people as my brothers and sisters. We are all related as human beings. It doesn't matter color, language, race, or where you come from."
That openness to dialogue is exactly what brought Kamana to AU in the first place. He's hoping to enhance his biblical studies with what will help him address conflict at a national and international level.
"I can look at peacebuilding as a theologian but also as a diplomat. That will help me do something for my church and for the world today," he said. "That's why I came to American University, to shift from a theological perspective to an international relations and diplomatic perspective."
Kamana's commitment to peace and reconciliation stems from a violent childhood spent in his native Rwanda. As a boy of 10 years old, he saw first-hand the horrors of ethnic cleansing and war—particularly when it touched his own home.
"Most of my family members from Rwanda were in the genocide. So many people died," he recalled. Even then, he began dwelling on the questions that would lead him to his current path. "'What can I do for the world? How can I become a peacemaker and work for peace?' It's not only Rwanda that needs peace. The whole world needs peace."
With that in mind, he's focused on ending conflict in the Middle East as well as other parts of Africa. He hopes that being at an international institution such as AU will expand his ability to serve other cultures and people. In fact, he appreciates the new perspective away from seminary.
"Most problems we have in the world are because we are closed in our boxes. We are prisoners of our cultures. We are prisoners of our prejudices," he explained. "But when you count other people, you're able to see how great they are and how you need to learn from them."
Looking ahead, Kamana plans to see Pope Francis again next year, this time in Poland for World Youth Day. For now, however, he feels a moral imperative to change the world through the knowledge he's gaining at AU's School of International Service. Whether as a priest, diplomat, or both, he believes he will make a difference—with or without his collar on.
"What we learn from the classroom, we need to implement. That's inspiring," he said. "Studying at American University, I will bring my head and my heart together so I can do something for people."