Student Life
Program Readies Eagles for Leadership Beyond Athletics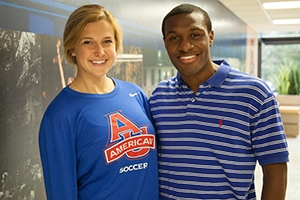 Already balancing academics and responsibilities on the soccer field, Megan O'Keefe couldn't imagine adding more to her plate when she heard about the Student-Athlete Leadership Development Program.
In the end, however, the sophomore came out of the five-week program with a new perspective on herself and her responsibilities.
"Off the field, I need to be as much a role model as I am on it," O'Keefe said. "The program has helped me improve that part of my mentality—that being a student-athlete isn't just being a leader on the field, it's also in the classroom and how I am in social settings."
Although the program is a Patriot League-wide initiative, the Academic Support & Access Center's Ashley Rozendaal designed and tailored its own approach to fit AU students' needs. Rozendaal uses the DiSC personality profile test to show students how their character traits translate to succeeding in various types of leadership roles.
"With all of our life skills programming, the goal is beyond AU," she explained. "Yes, it's things they can utilize within their four years at AU, but the ultimate goal is how this life skills development is going to help them when they transition out of athletics."
Men's soccer team captain Jordan Manley completed the program two years ago, but the experience has stuck with him. In fact, he now consistently keeps emotional intelligence in mind when dealing with teammates and class project partners alike.
"I'm constantly going to be using these skills, and I'm never going to be done learning about leadership. It's a continual process," he said. "To actually talk about these things and have that base, it's really important because you mature so much."
Aside from the curriculum learning, O'Keefe appreciates how the weekly class-style sessions bring together athletes from wrestling and swimming to volleyball and field hockey. That way, she says, she gets to see how different teams often share the same experiences.
"Not only just the problems," she said, "but the good things that go on within the teams. Just the fact that AU's sports programs are not enormous means it's a very close-knit family. We're all friends."
For Rozendaal, the program complements all the other pieces her office offers to support student-athletes. Freshmen participate in Thinking and Learning Opportunities for New Student-Athletes (or TALONS), which introduces students to resources like the Counseling and Wellness Centers. Juniors and seniors receive comprehensive career training.
A former collegiate hammer and discus thrower, Rozendaal understands the need for such diverse, practical programming.
"They will at some point stop competing, and I want them to be ready for that," she said. "Most of these athletes have been athletes since they were a young child . . . Being able to redefine their lives without athletics can be really difficult."
For O'Keefe and Manley, the Academic Support & Access Center outpost in Athletics frequently serves as a place of assistance and Rozendaal as a consummate source of guidance.
"Their door is always literally and figuratively wide open for you to walk in. They're so welcoming. I've really taken advantage of that," O'Keefe said. "She's like a motherly figure for me here."
Just as the leadership program showed O'Keefe new things about herself and her responsibilities, Rozendaal has revealed the value athletic achievements when working with Manley on his professional resume.
"She really helped me find my own strengths when I didn't really see benefits in something I did," Manley said.
Whether in programming or one-on-one counseling, Rozendaal and her office will continue overturning student expectations of what they can achieve. It's what makes her leadership development program uniquely AU.
"The skills student-athletes have are in high demand," she said. "We want them to be able to pinpoint what those skills are so that they can highlight them on their resumes and further develop them as they move into the work force. That sets our curriculum apart."