On Campus
Residence Community Explores Social Justice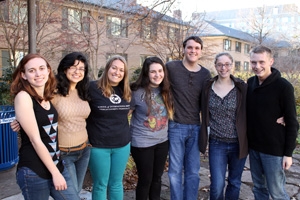 Justice in Focus

When AU talks about a commitment to social justice rooted in its mission and living in its halls, those words have never been truer than now.

That's because the university has launched its first Social Justice Living-Learning Community on campus this fall. The community, housed in Roper Residence Hall, includes about 60 first-year and upper-classmen students who opted into AU's open-gender housing.

According to resident assistant Aline Matias, the social justice component of the community – which features educational programming – unites the residents under a shared passion.

"By putting a social justice theme to it, you push it further and give it a greater purpose," she explains. "It's not just that I'm here at American University to study a specific concentration, it's also that I'm here to live and experience through living on campus and working with others."

Assistant director of learning communities and assessment Ryan Anderson was part of the Housing & Dining Programs team that developed the original plans for the living-learning community. The first goal was to attract students committed to social justice; the second was to provide a focused curriculum to encourage conversation around that passion.

That curriculum has and will include in-hall discussions on domestic violence and environmental sustainability, trips exploring Washington, DC and its critical issues, and tree planting with Casey Trees, to name just a few programs and experiences.

"We wanted to include the educational piece," Anderson says. "That reflects our mission. It's why we're called residential education. We want to provide a developmental component to it so that the students are actually learning something from it."

Common Experience

While Housing & Dining may have set an educational framework for the community, resident director Keesha Ceran is quick to point out that the university was more interested in the student voice than its own.

"We didn't want it to be very top-down. We wanted it to be an opportunity for the students to get out of it what they wanted," she explains, as she and her team looked toward an exchange of ideas between students, faculty, and staff about the community. "At the end of this experience, my hope is that there's a true collaborative experience."

For Matias, that strategy hasn't gone unnoticed.

Now in her fourth semester as an RA at AU, she believes this residence hall has been a completely different experience thus far. Her residents' varied visions of social justice – relating to education rights, women's and LGBT issues, and the environment – have caused her to examine her own views in a new light.

"For the first time since being an RA, I see myself being not just a resident assistant but someone who's learning along with them," she says. "In other buildings, there's this sort of top-down hierarchy…but I feel myself as a resident [here]. I'm living through this experience with them."

American Appeal

While Anderson saw the importance of the community and its open-gender housing in the planning stages, it wasn't until speaking with freshmen students living in the halls that he realized its critical function on campus.

"Of those thirty first-year students, two told me this was the reason they came [to AU]," he explains. "It made me think of the community in a very different way and reinforced the importance of it."

Matias, now a senior who has participated in AU's DC Reads and Alternative Breaks programs, sees her community as a way that the university lives out its mission and identity.

"It's not just diversity culturally, but also diversity in ideas," she explains. "This is AU trying to step out and say, 'We're trying to put diversity into action, and not just put it on the table and talk about it.'"

Finally, Ceran – an AU alumna herself – believes this community speaks to exactly how AU defines itself.

"At the heart of what that community is, that's very much the heart of the student vision, and I think it's the heart of the mission of this institution," she says. "As a product of this institution, I know I've benefitted from that, and I'm seeing that worked out through the students we engage with every day."

For her, AU's a university committed to social justice through educating wonks to make the world a better place one student and one residence hall at a time.