Student Life
Student Photographers Capture AU, Create Art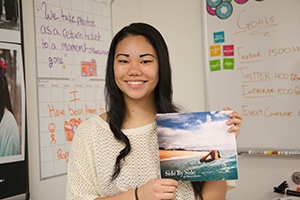 Kristie Chua lugged her camera and borrowed lenses through the summer heat and to the National Book Festival on the National Mall. Though just for fun, it was her first time photographing an event, and as she entered the sea of people that day, she was terrified.
"I went alone. I didn't have the right equipment, " she recalled. "When you're first shooting events, you're uncomfortable because you don't know your relationship to the people you're shooting, particularly in public spaces."
Now, less than two years later, Chua serves as director of AU's Photo Collective—a group of some 40 student-photographers on campus. In that short period of time, the second-year film and media arts major has come a long way, due in large part to the skills she's picked up with the Collective.
Born out of a past need for images in the recently retired AU Talon yearbook, the Photo Collective offers campus organizations a set of shutter-savvy students who can capture different events and news pieces on film. Groups like the student newspaper The Eagle and WVAU radio station are frequent patrons, requesting shoots for their websites and publications. Depending on the event, some campus partners even offer paying gigs.
According to Chua, that potential exposure for students' work has been a big draw for new members. "For the Photo Collective, you know your photos will be seen and that people are waiting on them," she explained. "People have come to expect a higher quality because we know what we are doing technically."
That increasing technical knowledge has come courtesy of club advisor and School of Communication adjunct photography professor Alexandra Silverthorne. She holds open, monthly workshops on skills from basic manual camera shooting and using studio lights to building websites and portfolios.
She loves that the group attracts a wide variety of students who otherwise can't receive classroom instruction on the practice.
"Especially with digital cameras, you have a lot of students who are interested in photography and shoot a lot but might be business or international relations majors. That's where they may be headed career-wise, but this allows them to develop their skills further," Silverthorne said. "It's a good life skill."
Chua herself only switched her major to focus on photography after becoming involved in the Collective, partly because of what she's been able to learn with Silverthorne.
"You have this insight from a great photography professor. She's very tough on her students because she wants them to improve," she said. "She helps out with basically every aspect of the Photo Collective."
One new outcome of the group is its first printed photo book, which includes 50 pages of glossy images under the theme "Side-by-Side." Photography professors judged and pared down roughly 500 submissions. The book itself is available for $5, starting at the Student Media Board's spring release party, which will also reveal new editions of the student creative writing journal AmLit.
"It showcases the work of the AU photography community, which is great," Chua said of the new book. "You get to see this creative community that you don't normally see . . . It's a very cool, artistic project."
Elsewhere, students can find pictures of the year's various campus events and happenings on the group's Facebook page, which now acts as an online yearbook of sorts as AU says goodbye to the traditional, printed Talon.
Adell Crowe, who oversees all of student media, is happy that Chua has been able to meet students where they are now: on social media. "She's really built a community around this, and that's what's been fun to watch," Crowe said. "I'm really proud of what this group has done. It could have been the end of something, but now it's the beginning of something else—a piece of a yearbook."
In addition to capturing college memories in a new way, Silverthorne appreciates the value of the professional shooting experience that students in the group receive.
"It's a great opportunity," she said. "It reflects the campus community of AU, the way students can seek out such a number of events."
And Chua can't agree more. As she graduates early next spring, she's moved beyond the jitters of the National Book Festival shoot, and she's ready for a career in the activity she's come to love.
"Personally, I feel very prepared. I've seen my work progress to the point where I'm proud of it. I can put it online and on my resume confidently," she said.