Student Life
Ten Ways to Meet People During #AUWelcome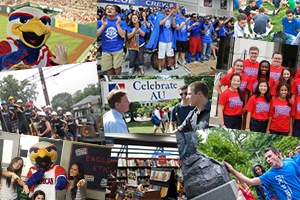 Meeting people at college can seem tough. Well, uncomfortable, really. But don't worry! Most first-year students feel the same way, and with that in mind, AU has you covered with a host of events that will have you meeting and getting to know hundreds of other friendly, first-year faces during #AUWelcome!
Not sure what's happening where and when? Go to your mobile app store and download AU Guides. Then, find the Welcome Week guide, and you'll be all set with a full schedule of events, maps and more!
1. FSE, Discover DC, and Explore DC

These small-group programs are crucial not just for meeting other new Eagles; they're also a great way to explore the new city you'll call home. Whether you're painting a community center or prepping meals at D.C. Central Kitchen, the Freshman Service Experience will connect you with people and places that are sure to leave a lasting impression. Similarly, Discover DC and Explore DC will orient you to the District, with groups focusing on topics from women in politics to journalism and biking.
 
2. Food, At All Hours

What's better than a bacon and waffles second dinner? One with dozens of potential new friends! Head to the Terrace Dining Room (TDR) on Saturday, Aug. 22, as the dining hall opens its doors at 10 p.m. for Late Night Breakfast. Just ask rising junior Emily Giarrantana, who remembers the delicious tradition with fondness, saying, "Bonding over food is the best way to bond."
Still hungry? Check out the Rock, Blues, and BBQ on Sunday, Aug. 23, at 9 p.m. in the Woods-Brown Amphitheater.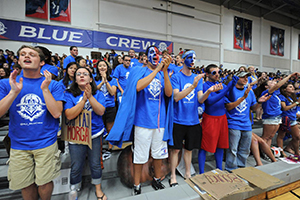 3. Blue Tide Rolls into Bender

The caw of the crowd. The squeak of sneakers on the court. The ocean of blue shirts. The set, spike, and SCOOOORRRRRRRE! That's AU's Bender Blue Out! This year's annual sporting tradition will feature AU's women's volleyball team taking on the Florida Gators on Sunday, Aug. 30, at 4 p.m. Come out to Bender Arena dressed in your best AU blue, and join the campus' raucous Blue Crew to cheer on your fellow Eagles!
 
4. Bouncy Castles? Say No More.

Attention: There will be bouncy castles at Quad After Dark on Wednesday, Aug. 26, at 9 p.m. "It's super fun, and you get to meet people in a laid-back atmosphere," said rising junior Patrick Kavanagh.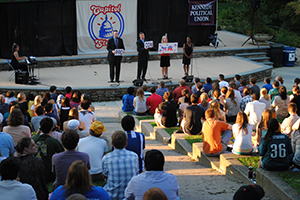 5. Capitol Steps + The White Panda

In another long-standing AU tradition, the irreverent political comedy of the Capitol Steps returns to the Woods-Brown Amphitheater on Sunday, Aug. 30. Think of it as Schoolhouse Rock meets the Daily Show. If laughing isn't your thing, then make new friends while dancing the night away in the Tavern as Student Union Board presents mash-up kings The White Panda on Saturday, Aug. 29, at 9 p.m.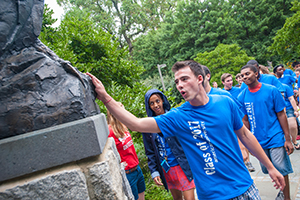 6. New Eagles, Unite! In an Orderly Queue.

Flock to the Quad at 10 a.m. on Friday, Aug. 28, with your fellow freshmen to participate in a procession across campus that ends in Bender Arena for Opening Convocation. Led by bagpipers, the procession marks the beginning of your journey at AU and will be a reminder of your first days as an Eagle, when years later—after rubbing the Eagle statue's talon once more for good luck—bagpipers lead you back into Bender for Commencement.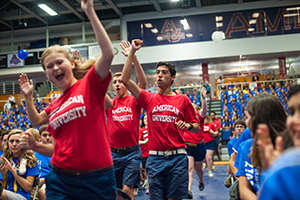 7. Opening Convocation: #AUWelcome

Once the bagpipes quiet down, file into Bender Arena to the sound of applause from AU staff, faculty, and community members. This warm welcome features speeches by AU President Neil Kerwin and vice president of Campus Life Gail Hanson, among others. Learn the AU Fight Song and get a look ahead at what to expect during your next four years.
 
8. All American BBQ (More Food)

This cookout features summer staples such as hamburgers, hot dogs, watermelon, and ice pops. Meet friends for an early dinner on Friday, August 28 at 4:30 p.m. on the Quad before heading out to AU Night at Nationals Park. Purchase tickets for the Nationals game during select Welcome Week at Night activities.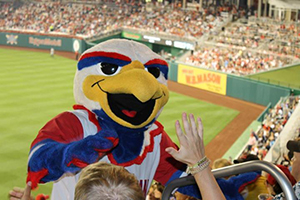 9. AU Night at Nationals Park

Play ball! On Friday, Aug. 28, at 7 p.m., students, alumni, faculty, and staff gather at Nationals Park for an evening of Nationals baseball and AU fun. Want to make a feathery friend? You can meet AU mascot Clawed Z. Eagle while there! Free t-shirts, an AU celebrity first pitch, and in-game WONK challenges round out this sportingly good back-to-school tradition.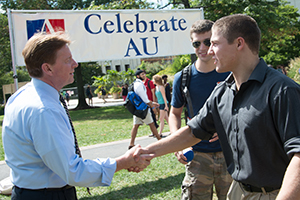 10. Celebrate AU (Even More Food)

President Kerwin, cake, and new connections? That's Celebrate AU! Mark your first day of classes by enjoying a midday break with music and free food on the Quad. You'll find a sea of smiling faces there between classes—a mix of both freshmen and upperclass students to mingle with on Monday, Aug. 31, at 2 p.m.