Student Life
Top 5 Ways to De-Stress Now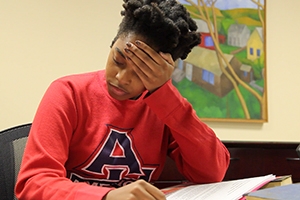 Spend a lot of time feeling stressed out last semester? Anxious? Hands shaking, hard to sleep, sweating, worried about so much you couldn't stand it? You're not alone; other AU students may be feeling the exact same way. What can you do? So many things!
The university has loads of stress-reducing options for the entire AU community. So, consider making a New Year's resolution to tame your stress early this semester before midterms and finals roll around. 
Apart from keeping your academics and physical health in order, check out some of these great options to bring some more zen into your life:
1. Counseling Center
AU's Counseling Center now offers far more than one-on-one counseling sessions, though they still do plenty of those as well. On Thursday afternoons from 3-3:45 p.m., the center opens its doors for its Relaxation for Mind & Body drop-in group. No need to sign up in advance, just come by for guided meditations, breathing exercises, and visualizations to calm your nerves.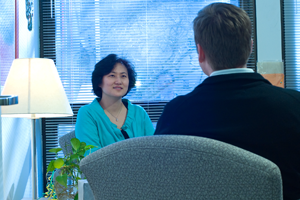 The Counseling Center also organizes group therapy on topics including stress management and self-insight. Of course, if you're looking for a solo debrief with a counselor, they can help with that too. Just call or drop by to set up an intake appointment with one of their trained clinicians. For emergencies, the center also holds walk-in hours, weekdays from 3-5 p.m.
Additionally, the Counseling Center has a lot of helpful resources on their website, including a self-help library, anonymous mental health screenings, and videos that give you a glimpse into their center and services.
2. Fit to be Swell
Whether you're into hitting the treadmill alone or hitting the court for an impromptu basketball game, Recreational Sports & Fitness has you covered for stress-reducing exercise. Interested in group exercise? Both the Jacobs and Cassell Fitness Centers host a number of group classes, ranging from yoga and Pilates to high intensity interval training and even a Bollywood dance cardio workout.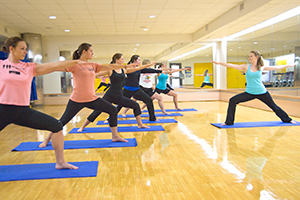 Classes not your thing? Then hop into the pool for some laps, grab some free weights at the gym, or shoot some hoops in Bender. If you're looking for something more competitive, try out any of the club and intramural sports coordinated through rec fit. Whatever you choose, you're sure to find your endorphins up and stress levels down.
3. Meditation Stations
Hoping to bring your thoughts to a higher, calmer plane of existence? Then grab a cushion, sit down, and meditate! AU offers several, weekly meditation sessions, two of which take place in the Kay Spiritual Life Center main sanctuary. Tuesdays at noon offer Juniper-style meditation, with discussion and practice facilitated by AU staff and faculty.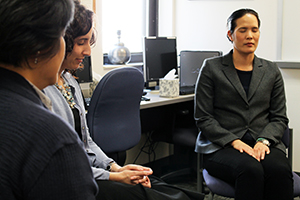 On Wednesday afternoons from 4:30 to 5:30 p.m., Buddhist chaplain Bhante Katugastota Uparatana leads AU community members in traditional, Buddhist meditation that soothes the body and mind as well as the soul. Beginner and seasoned meditators alike are welcome at either session.
Alternately, the Jacobs Fitness Center now also holds weekly one-hour meditation sessions, Tuesdays at noon. Learn the principles and techniques of seated meditation along with walking meditation and mindfulness training.
4. The Flaming Cupcake
Aside from great meditation options, the Kay Spiritual Life Center offers a lot of what it's named for—spirit. Need some religious guidance or prayer to find grounding? Kay houses chaplains from more than two dozen faith groups. Whether you're Jewish, Hindu, Muslim, Christian, or Secular Humanist, you'll find someone to connect with for a heart-to-heart or soul-to-soul chat.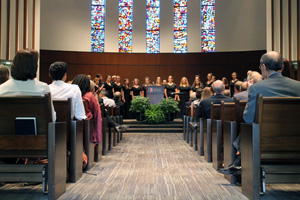 What's more, the Quad's "flaming cupcake" also hosts a number of student-led spiritual groups that cook up potluck dinners with a healthy serving of community—both of which are sure to fill anyone's spirit. Plus, the center is just a downright peaceful place to be between breaks in classes for a quiet moment or for an evening religious service.
5. Holistic Centre
Outside of the stressors of class, work, and internships, college can present various other barriers to healthy living. If you're struggling with issues around alcohol, drugs, nutrition, sexual health, or body image, the Wellness Center is here for you. Located just beyond the Student Health Center in McCabe Hall, the staff there focuses on a holistic approach to wellness.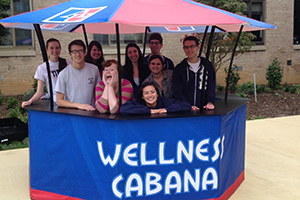 They have countless resources to help you with healthy choices and a more positive lifestyle so that you can perform to your optimal, stress-reduced self. Can't visit their office? Then keep an eye out for their Wellness Cabana, bringing resources to you across campus.