On Campus
Host to the World: UCGS Lands Two Top Awards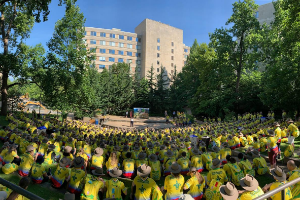 It's like winning two Oscars, if university event planning had Oscars.
Two major honors have been landed by AU and staff for their event-hosting skills: Outstanding Institutional Achievement for a Single Event and the Session of the Year Award. Both awards come from the Association of Collegiate Conference and Events Directors-International (ACCED-I), the professional organization for university and college event professionals.
The awards are a poignant reminder that campus is usually bustling over the summer with event goers. Most years, over 10,000 people from around the world attend one of around 80 conferences hosted on campus by University Conference and Guest Services (UCGS). It's a significant revenue source for the university, especially during the summer, and also an opportunity to spotlight AU's lush grounds at a particularly beautiful time of year.
International Scouts Jamboree
Anyone who worked on AU's campus last summer surely recalls the throngs of young Scouts from around the world, particularly the Australians in their bright yellow shirts and wide-brimmed hats. The International Scouts Jamboree drew over 2,000 Scouts from Australia, New Zealand, the Netherlands and Japan to campus, where they lived, dined and gathered for up to nine days. From their base on campus, they toured the capitol region from DC to Virginia to Baltimore - and of course, the AU team was involved in managing that, too.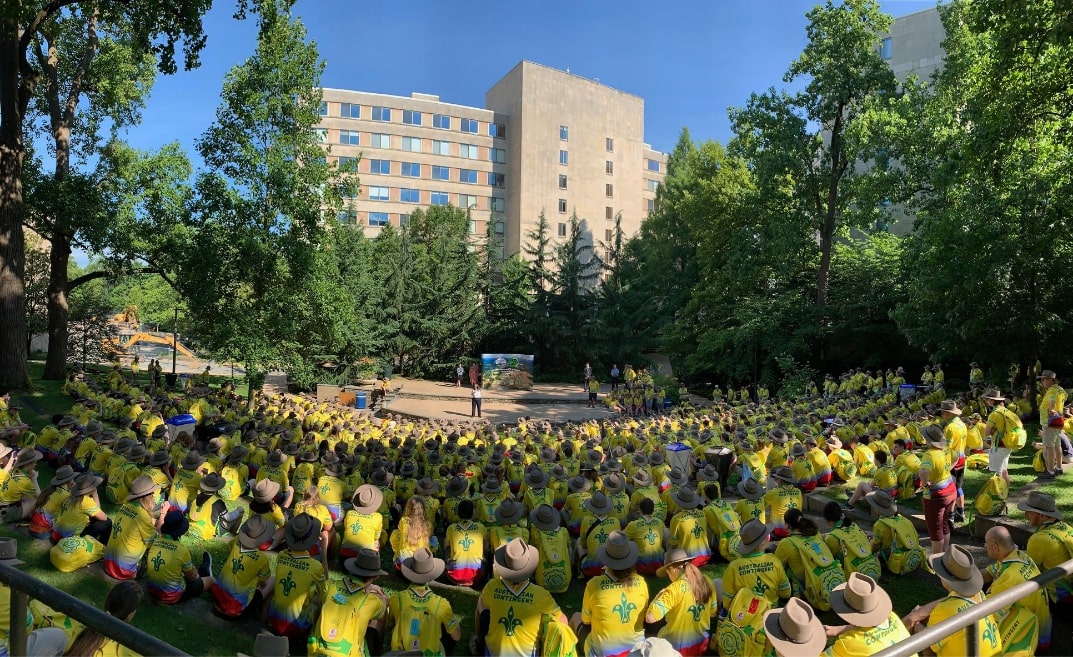 For two years, the close-knit, six-person UCGS team, helmed by the outgoing and irrepressible Kim Araya, planned to make the Scouts' DC experience a smooth and memorable one. "Our mission is to bring AU to the world and bring the world to AU. By hosting these 2,000 Scouts, we did just that—we exposed them to higher education in the USA," says Araya. "We also exposed them to the rich culture that the DC area has to offer."
Adding to the campus activities, UCGS coordinated some American summertime fun for the Scouts at an Orioles baseball game in Baltimore—an event that made it to national news.
To pull off the week of Scouts on campus, all hands were on deck:: from Housing, to Admission, to Facilities Management, to Parking and Transportation. Feeding that many Scouts in the summer was quite the challenge, with 1,400 meals served three times a day for five straight days in a dining hall that usually only seats 600 people. As Araya says, "This truly shows what teamwork can accomplish."
A conference leader
Araya became Director of University Conferences and Guest Services in 2014 after a career that had begun in a very different direction, with psychiatric and legal work in Iowa. While studying for her Master's in Behavioral Counseling at Johns Hopkins University, she interned at the counseling center and found herself drawn to the higher education environment. That led her to conference and event planning at the University of Minnesota, where she worked for over 12 years.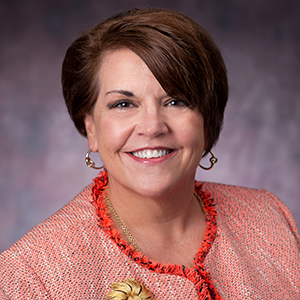 In 2014, Araya joined the team at AU, where she saw an opportunity to make the university a global player in the DC conference space. "I wanted to give a five-star red carpet service on a campus with dorms and a dining hall," she says.
She described that long-held vision in her award-winning presentation at the 39th Annual ACCED-I Conference, "How to Manage Guest Expectations: Campus Venues and Services vs. Five Star Hotels." The talk outlined the growing competition in the market for conference spaces, the increasing demand of clients for high-end services and at a reduced rate, and how to meet those expectations.
For the moment, AU's life as a conference destination is on pause, and events like the International Scouts Jamboree are hard to imagine in these times of social distancing and limited travel. But when the time comes again to welcome the world to AU's campus, Araya and the award-winning UCGS team will be ready.