Student Life
Honoring Vanessa Guillen's Memory with Art and Community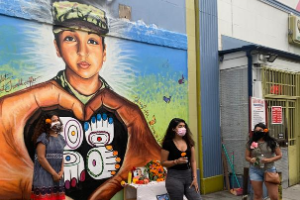 Art is one response to pain. So is organizing. For several members of the AU community, the shocking death of Vanessa Guillén prompted a public response — a vigil to honor the murdered woman, a mural to commemorate her life, and a space to bring awareness to systemic violence and exploitation impacting Latinx women.
Azul Torres (SPA '21) saw much of herself in Guillén. Both are Latina women, in their early 20s. They grew up in the same area of Houston and went to rival high schools that both had a focus on ROTC recruiting. Torres knew many Latinx students who saw the Army as a way to escape poverty. 
When she read the news of Guillen's killing - her body was discovered months after she went missing in a case that has drawn attention to violence within the US Army — "it all clicked and I wanted to organize," Torres says.
Other members of the AU community were also moved to take action by the deeply troubling news. Artist and adjunct SOC professor Frida Larios expressed her response in art - by creating a mural, with Musah Swallah, to honor Guillen in a community-oriented space. Torres, alum Romina Martin (SPA '20) and several others organized a vigil Thursday night for Guillén in Columbia Heights, the heart of the Latinx community in D.C.
Finding Community in DC
Columbia Heights and nearby Mount Pleasant have been special places of connection for Torres. "When I first moved to college, I struggled a lot finding a community outside of my college campus," she recalls. "So I start looking for a good Mexican restaurant that serves my favorite Mexican dish, mole. I come to find this little tiny Mexican restaurant called Los Compadres Taqueria, located in Mount Pleasant."
It's an area where she felt at home as soon as she stepped out of the Columbia Heights Metro. From the street vendors to the accents, it all felt familiar. "I immediately hear the thick Salvadoran accent, and happen to find a church that has a Spanish mass. I fell in love with the vibrant culture, atmosphere, and community of Columbia Heights," she says. "it reminded me of my own home growing up."
Yet as Torres became politically involved in D.C., she realized there was a disconnect between marginalized communities and political mobilization. So when she organized the vigil with Martin and Larios, she wanted it to be held in a space that was accessible to the community. Columbia Heights was that place.
The Vigil
In front of the mural, people brought 'ofrendas' (offering): candles, flowers, drawings and portraits. Some of Guillén's best friends attended, as well as many members of the Columbia Heights neighborhood and AU community, who donated water bottles, snacks, and hand sanitizer. Torres and Martin also fundraised to hire a mariachi band to honor the life and heritage of Guillén; with extra funds, they donated to the family's fundraiser.
Martin, too, had found not only community but a career direction within DC's Latinx community. The 2020 graduate worked at AU with the Center for Community Engagement and Service, engaged in community-based learning, interned at the Mayor's Office on Latino Affairs and is now working for immigrant children's rights.
The vigil the women organized served as a space to heal and to honor - and also to raise questions about the relationship between what happened to Guillén and issues of systemic violence, oppression and exploitation.
"We wanted to hold this space for them, a healing space that was community-oriented," says Martin. A Latina mother at the vigil shared her experience having children in the military. Martin felt that messages like these were crucial to share. 
We believe a lot of the messages are getting lost, and we wanted to hold a space to make it clear that this is not just one story. It's a bigger picture of what it means for Latina women being in the military.
"Behind all the hashtags," Martin says, "there was a family. She was somebody: a daughter, a sister, a 20-year old, a member of her community, serving her country.
Entro viva y salió muerta. 
She went in alive and left dead. 
Now a mural reminds the world of her life, her death, and what that means to a community.