Student Life
Welcome Home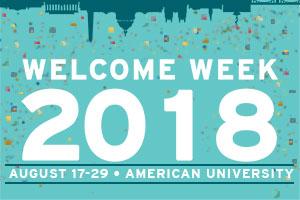 Welcome to the start of a new academic year, and your new home at American University. This time can be exciting and also challenging with meeting new people, adjusting to classes, and adapting to Washington, D.C. To help you ask you start your journey, we talked to people across AU to provide 10 tips to help new students start the year off right.
Tip #1: Attend Welcome Week events!
Welcome Week is an official period to welcome new students to campus. This transition time gives new students the opportunity to familiarize themselves with the campus, learn AU culture, attend one of the 100+ events from different student organizations and campus departments, and meet other new students. Welcome Week starts Aug. 17 and highlights include: Jazz in the Garden, Convocation, the All-American BBQ, and Celebrate AU. Follow Welcome Week on your phone through AU Guides, and share your experience on social media by using #AUWelcome.
Tip #2: Get to know your First-Year Advisor.
Transitioning to a new environment and schedule can be difficult. That is why AU has assigned new students with a First-Year Advisor who will help with navigating this period. "Advisors wear multiple hats in which they serve as the academic advisor for students throughout their first year with a focus on making sure they build a proper academic foundation and get focused support as they navigate their new college experience," Caroline DeLeon, Assistant Director of First-Year Advising, said.
Along with assisting with this adjustment, First-Year Advisors also serve as American University Experience (AUx) instructors. "Each semester the curriculum focuses on transition, identity development, race, and cultural competency. In teaching these classes, students see their first-year advisors regularly and build relationships that last beyond their first year," DeLeon said.
Tip #3: Visit the Academic Support and Access Center (ASAC).
It may take time to adjust to the expectations of a college course, but don't feel nervous or hesitant to ask for help in a class. Although students may be used to finding answers on their own, asking for help with class is not a sign of weakness. In fact, it is a symbol of strength. That is where ASAC comes in. ASAC – located in MGC 243 – supports the academic development and educational goals of all AU students by offering academic support counselors, academic skills workshops, a writing center, tutoring, and more. "Meeting with ASAC to plan your semester and set academic goals are a few things you can do to ensure you have a successful semester," Ricardo Maisonneuve, Coordinator of Supplemental Instruction for ASAC, said.
ASAC will host Pizza and Planners on Sept. 6 from 4:30 p.m. to 8:30 p.m. in Mary Graydon Center (MGC) 2-5 to help students plan their semester and eat pizza. The ASAC Tutoring Lab will open Sept. 2, and Supplemental Instruction starts Sept. 10.
Tip #4: Get involved!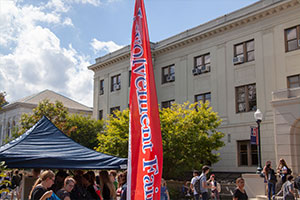 Student organizations are a great way to make friends and gain a deeper connection to AU. New students will get an introduction to these new groups during Welcome Week by exploring the more than 200 student organizations and many departments AU has to offer. A great place to start is the Involvement Fair, sponsored by Student Activities, on Sept. 5 from 11:30 a.m.-2:30 p.m. on the Quad.
"Whether you want to continue a previous activity or try something new, there are many engagement opportunities available, and you don't have to become involved in them all your first year," Ayana Wilson, Director of Student Activities, said.
Tip #5: Stay healthy!
With starting college, new students will find that they will have free time after their academic and club commitments. An excellent way to spend that free time is taking great care of their physical health. "Students can create healthy habits and stay active during the school year by either playing an Intramural Sport, joining a Club Sport team, or reaching your personal fitness goals," Alicia Fodera, Assistant Director of Membership Services and Promotions at Recreational Sports and Fitness (RecFit), said.
An excellent way to start the year right is by attending a group exercise class during RecFit's free class week between Aug. 27 – Sept. 3.
Tip #6: Balance is key.
Maintaining good physical health is one crucial aspect of having a bright start to the school year. It is critical for new students to have positive health and wellness to tackle the task of being a new student. AU provides a variety of classes and extracurricular activities, and it is tempting to try everything.
"You don't have to do it all at once – and for the sake of your stress and well-being, you shouldn't do it all at once," Mickey Irizarry, Director of Health Promotion & Advocacy Center, said. "There will be time to try the different things you are interested in over the next four to five years. Pick one or two today—try it out, see how you like it, and go from there."
Tip #7: Think globally!
With students hailing from more than 120 different countries, AU is a campus that has a global consciousness. Because of its international sensibilities, AU's environment is helpful to new international students acclimatizing to a new country and teaching style. "Adjusting from different educational systems to the U.S. system and cultural transition is the core of international students integration to AU," Senem Bakar, Director of International Student and Scholar Services (ISSS), said. "Early awareness of available resources makes all the difference, and we emphasize this point to students and families."
An exciting chance for new students to meet one another, and have some tasty snacks, will be during ISSS' Global Café on Aug. 31 from 3 p.m. to 5 p.m. in Butler 410.
Tip #8: Step out of your comfort zone!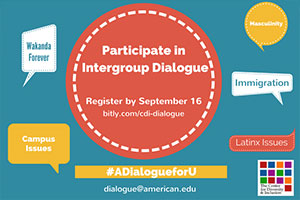 New students can start the year right by challenging themselves to do something different. AU provides two opportunities for this with the Center for Diversity & Inclusion's (CDI) Intergroup Dialogue, and ISSS' Language Exchange Program. CDI's Intergroup Dialogue is a seven-week program that provides AU students the chance to engage on a range of identity topics including race, ethnicity, gender, class, sexuality, and faith. The goals of these dialogues are to provide students with the opportunity to connect with people from different identities and backgrounds and discuss current topics. Register for an intergroup dialogue by Sept. 16.
ISSS' Language Exchange Program (LEP) offers students the chance to learn and exchange languages and cultures while making a new friend. Students can register for LEP by Aug. 30.
Tip #9: Find your community!
New graduate, transfer, and veteran students, may take a little more time to find their people or community. Everyone is encouraged to attend Welcome Week events, and there also will be chances for these students to find fellowship with those who are at similar points in their lives.
On Aug. 25 at 8:30 a.m., the Graduate Leadership Council and AU Police will host an orientation breakfast in Constitution Hall to familiarize graduate students with the safety resources available at AU. The orientation breakfast will give graduate students the chance to network with their peers and meet the uniformed police officers who serve our community.
For transfer and veteran students looking for a way to acclimatize with AU, there is the new AU online orientation. "The new online orientation is the perfect way to ensure you're prepared for life as an Eagle," Director of Orientation, Transition, and Retention Jennifer Johnson said. "There are specific sections designed for transfers and veterans. Visit the online orientation and select 'Student' and log in with your AU username and password."
Veteran students are also encouraged to use the Veterans Lounge, located in Asbury 207. Veteran and active duty students should email Valerie Verra for access.
Tip #10: Sports!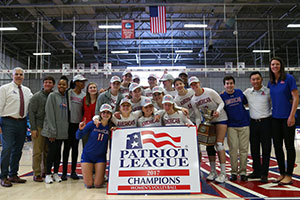 Photo by AU Athletics
Finally, AU is one of the best Patriots League sports programs, and that can only happen with student support. The Women's Volleyball team's earned five straight Patriot's League titles and is looking to make it six in a row this season. Women's Volleyball opens their season Aug. 24 at 7 p.m. in Bender Arena against George Mason.
Be sure to attend the 12th Annual Bender Blue Out on Aug. 26 at 4 p.m. when the Women's Volleyball team returns to action to host NCAA semifinalists Stanford. While in attendance, new students will have the opportunity to join the Blue Crew, AU's athletics support organization. Admission for the match is free.
Looking for another sport? On Aug. 24, The Field Hockey team will host Richmond at Jacob's Field at 1 p.m. and later Men's Soccer team will host George Mason at 4 p.m. at Reeves Field.
Welcome new Eagles! Now get out there and soar!