Achievements
WVAU Named Nation's Top Online College Radio Station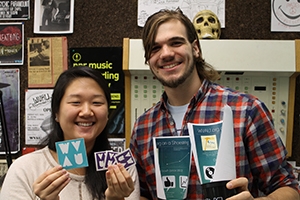 Number One
At the fall Student Activities fair several years back, then-freshman Brendan Principato spotted and made a beeline for WVAU's table.
"I always wanted to do college radio," he recalled. "I walked right up to the table and said, 'I'm doing this.'"
Now a senior and co-general manager of AU's student-run radio station, Principato celebrates his decision to join, as WVAU just won the College Music Journal's national award for best student-run, internet-only station.
WVAU beat out scores of other internet-only stations across the country to earn first a nomination and later the win at the CMJ Awards on October 23 in New York City. Fellow School of Communication senior and WVAU co-general manager Hyunjin Park said she believes the honor was years in the making—not just of her and Principato's doing, but of those previous GMs as well.
"It's a real huge deal," she said. "How we've improved over the past few years really sets us apart, especially from other D.C. area schools. We've just accomplished so much."
Learning & Insight
From hardwiring production gear to producing fresh, engaging content for their website, WVAU has made its great strides essentially on its own.
"Everything that we do is done by students, and I think that's a really powerful and exciting thing," Principato explained. "It's more validating at the end of the day to know that even if it wasn't done perfectly, it was done by us."
This student-driven programming has included building live, in-studio performances into their weekly schedule. Live in the Hive, a show airing every Saturday night, welcomes local and national acts to WVAU, giving the station a host of exclusive recordings that it releases as fundraising compilations.
Last year, WVAU teamed up with other area college radio stations to put on a sold-out show at D.C.'s Sixth & I historic synagogue, and they plan to do a similar event this spring.
The mix of event planning, promotion, and technical production has been a welcome supplement to the co-GMs' classroom studies. It's just another example of the experiential learning AU is known for.
"The stuff that we are getting a degree in is a lot of what we're doing. It's just a lot more real than conceptual," Principato said. "Being a part of WVAU and having to do these things has been much more helpful than any class. It's taught me a lot more to have to do it than learn about it."
For Park—like many students involved in on-campus groups—WVAU actually helped her determine what she wanted to pursue both in academics and in a career, as she's switched from her original major in international studies.
"Before I joined WVAU, I didn't know I had an interest in media," she explained. "It really changed the gears. My mind was like, 'You need to go into communication.' It helped me realize what industry I'm interested in and which facets I want to work in."
Greatest Hits
Principato credits in part AU's new Student Media Board for the award. The board combines and oversees all of the campus' student media outlets—from the The Eagle news source to the student television group ATV, who have helped WVAU with the technical aspects of their live in-studio performances.
Specifically, Principato points to the Student Media Board site, which houses all the media groups' web presences. In fact, it's the only one of its kind in the nation.
"That hub site definitely helped us," he said. "Our site looks way better than it did before, and as an internet-only station, your website is your lifeline. That's all you've got. So to have that be a strong component of our station has helped us receive more attention."
Still, WVAU isn't the only one at AU recently recognized by a national media organization. Student media staff advisor Adell Crowe has been named to the College Media Association's 2014 Honor Roll for multimedia advising. According to Park, Crowe—a 30-year veteran of USA Today—is student media's biggest advocate on campus.
"Whenever we're in need of anything, she's always there. She's always willing to help," she said. "She understands. She's one of us. She's one of each of us. She's in every organization, and she gets it."
Following these landmark recognitions, both Park and Principato will be passing the torch to their successors this spring as they graduate. Thinking back on the work between when he first signed up his freshman year until now, Principato knows that the future requires just as much effort from those incoming GMs.
For him, there's no turning back now for WVAU. "It sets a new standard for us," he said.