Professional News
Young Alumni Stress Importance of Student Organization Experience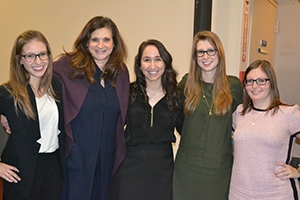 What's the most important skill four recent alumni say they honed as student leaders while at AU?
Networking.
These four women each headed AU's chapter of the Public Relations Student Society of America. According to Morgan Gress, who served as PRSSA president from 2012 until her graduation that next year, the organization and her classroom studies gave her a solid foundation for the professional world.
"The value of creating and maintaining a network is something I learned how to do at AU in my classes and as president," said Gress, now an editor at 1776, a global hub for start-ups in D.C.
Deniz Sonmez-Alpan, another former PRSSA president now at Burson-Marsteller in New York, believes the student organization was an organic start to getting in touch with current and soon-to-be public relations professionals. "Through PRSSA, its national conference and events, I built an extensive network of people that is extremely valuable to me," she said.
While now scattered between different cities and companies, the women returned to AU to speak on a panel to PRSSA's current chapter. They discussed life after AU, and—of course—they did a little networking.

PRSSA president from 2011 to 2012 Ashley Wolos shared how being a part of the group helped her discover a different life path than she had previously envisioned for herself. Like many students who participate in student organizations on campus, a whole new world opened up to her.
"It was PRSSA that showed me that there was more to communications than being a print journalism major," she said, speaking to the experiential learning AU is known for. "When I had the opportunity to attend the national conference, I realized the scope of PRSSA nationally and its outstanding reputation."
She now serves as a senior account executive with Edelman PR firm in D.C.
Kelsey Balimtas, PRSSA president just last year and winner of two scholarships from the national organization, said that though holding leadership positions in a student organization is a lot of work, "it's so worth it" because of the great people she met and students she worked with. Balimtas is an account coordinator with Hager Sharp in D.C.
School of Communication professor Gemma Puglisi, the long-time adviser of the student organization, said the success of the former presidents, is "a testament to their leadership and talents while in the PRSSA."
Still, Puglisi is quick to note that these women's time with AU and PRSSA is far from over. In fact, they've taken on a new role. "They are also now mentors," she said. "And it was great to see current members hear from them and have the opportunity to chat with them after the event."
During the panel, current PRSSA members had a lot of questions about skills, internships, and jobs. The former presidents responded with tips, encouragement, and a bit of advice in parting.
"Be a good person," advised Balimtas. "Be good and be good at something. Also, take statistics while you are here; you will need it."
"Don't burn any bridges," Sonmez-Alpan said. "Take time to build and nourish relationships, continually add to your network."
"Take risks," said Gress, who left an established web design firm for a start-up. "There is not one set path to take."
"Recognize that everyone brings something to the table," added Wolos. Not forgetting the value of networking that she learned through PRSSA, she closed saying, "Of course, stay connected."