Orientation, Transition & Rete
4400 Massachusetts Avenue NW
Washington
,
DC
20016-8168
United States
This two-day program was designed for first-year and transfer students joining the AU community in the Spring 2018 semester. The program was held on January 11-12, 2018. 
REGISTRATION & FEES
Registration for January Orientation is now closed. 
The fee to attend January Orientation is $65.00 per participant (students and family members). Students are advised to bring additional spending money for off-campus dining and evening activities. The $65.00 fee covers breakfast and lunch on the first day, program materials, and activities. Please note that it will take 48 hours from the time you deposit to be eligible to register. 
REFUNDS & CANCELLATIONS
Orientation cancellations and refund requests must be submitted via email to orientation@american.edu and must be received at least 5 business days before the start of the program. All refunds will be posted after orientation is complete and returned to the same card that made the initial payment.
January Orientation Schedule
You will receive a fully detailed schedule at check-in, however please plan on participating from 8:00am- 5:00pm on the first day and from 9:00am-4:00pm on day two.
Throughout the two days, you will hear presentations from your academic program, Housing and Residence Life, the Career Center, Student Activities, AU Central, the Dean of Students Office, and the Student Health Center. We will also showcase a variety of departments, student organizations, and off-campus organizations.
Parents and families are welcome to participate and have a similar schedule.
Attention Early Decision Students
Students who have been admitted for Fall 2018 should not register for January Orientation. Registration for summer or fall orientation (Eagle Summit) will be available in late spring 2018.
Some Orientation Leaders hanging with Clawed Z. Eagle!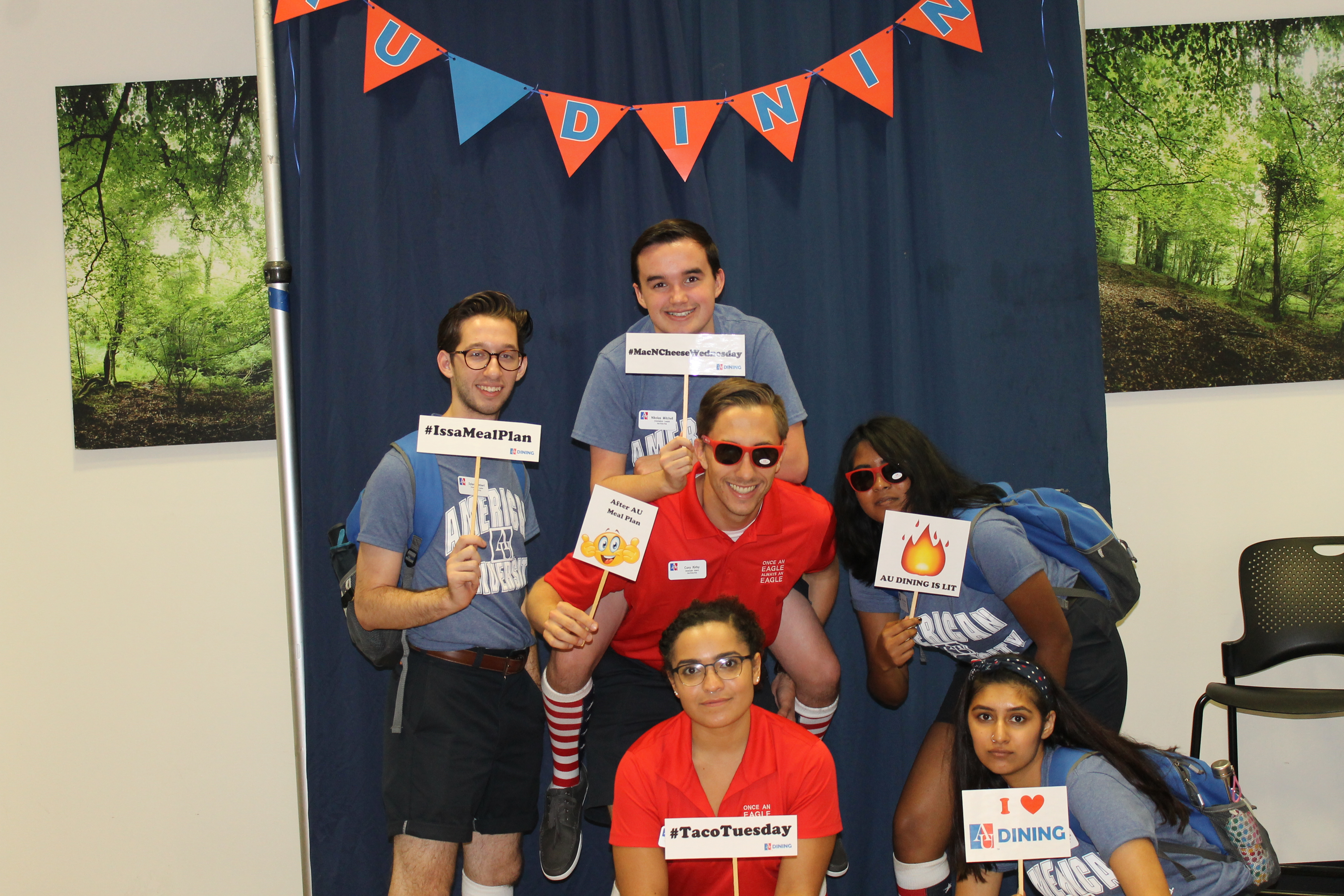 We love the Terrace Dining Room!