Mon-Friday: 9:00 am - 5:00 pm
Orientation, Transition & Rete
4400 Massachusetts Avenue NW
Washington
,
DC
20016-8168
United States
Parent & Family Orientation
Welcome to the AU Community! The Office of Orientation, Transition and Retention is responsible for ensuring that all new students make a smooth transition to the university. We know that your student's successful transition is important to you and that you'll have your own questions and concerns. To meet your needs and help you better support your student, we offer two types of parent and family orientation programs, depending on your student's admit status. Registration instructions will be sent to your student.
Eagle Summit is American University's orientation program for first-year students. During Eagle Summit we host a concurrent Eagle Summit Guest program, and we invite you to attend! You'll have the opportunity to meet with university administrators, learn about the many services offered at American, and learn about AU's academic programs. As one parent put it, "Orientation was first class! Thanks for making us feel welcome. AU is definitely the place to be." 
Program Details
Eagle Summit is a two-day program that occurs in June and July. We also host a one-day August Eagle Summit which occurs during All American Welcome. Please visit the Eagle Summit website for more information. 
Current program fees
$100 per family member
Parents and family members of transfer students are invited to attend Transfer Transitions with their student. Transfer Transitions is a one-day orientation program, specifically crafted for students who are transferring to AU for the fall semester.
Program Details
The Transfer Transitions schedule will be posted in late summer. However, in past years, check-in was available from 8:00 a.m.- 9:00 a.m. and the program concluded around 6:00 p.m. Please visit the Transfer Transitions website for more information about this program.
current Program Fees
January Orientation is American University's orientation program for first-year and transfer students beginning at the university in the spring semester. We also host a concurrent January Orientation guest program and invite you to attend! 
Program details
January Orientation is a one-day program and typically occurs from 8:00am-5:00pm for parents and families. The program will be hosted on Thursday, January 10, 2019 for all transfer and first-year students who are starting at AU in Spring 2019. Please visit the January Orientation website for more details about the program. 
Program fees
$65 per family member
Our most frequently asked questions regarding orientation programs for new AU students.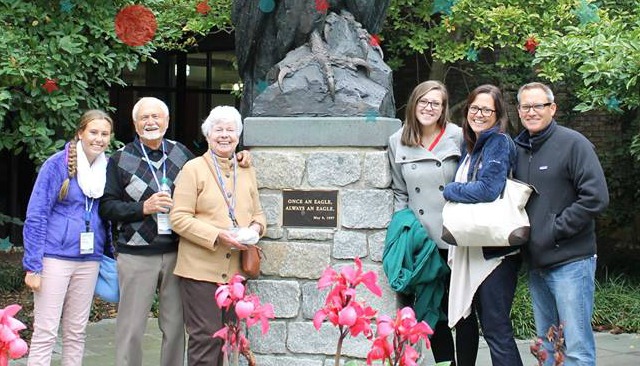 All American Weekend 2019
October 4 - 6, 2019
Check back here in late summer 2019 for more details about All-American Weekend, AU's family and alumni celebration weekend!