Contact:
Pritma "Mickey" Irizarry
Director, Wellness Center
Health Promotion & Advocacy Center
4400 Massachusetts Avenue NW
Washington
,
DC
20016
United States
Peer Health Education (PHE) Program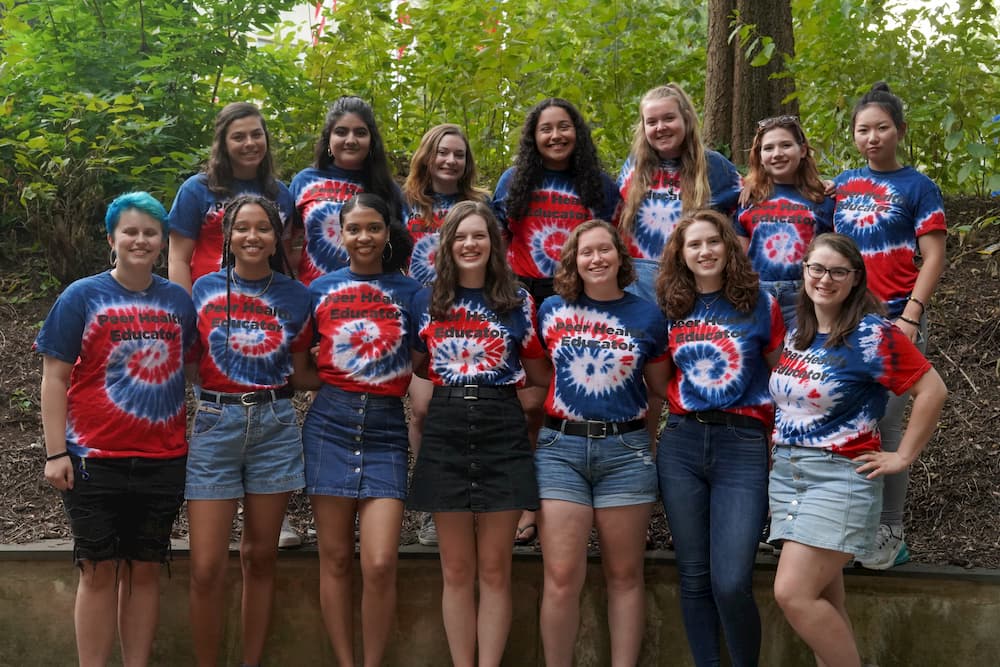 The Peer Health Educators (PHE's) are undergraduate students who are highly trained by the staff in the Health Promotion & Advocacy Center (HPAC) in various health-related topics, especially those that are pertinent to college students at AU. They can provide a variety of interactive, informative, and engaging health education programs or workshops to classes, residence halls, athletic teams, student organizations, and more!
Signature Programs from the PHE
Empower AU
Consent, Communication, & Bystander Intervention
Empower AU is American University's homegrown, nationally recognized, peer-led sexual violence prevention program. It is informed by the student voice, grounded in research, and assessed on an annual basis. Every incoming undergraduate student must attend an Empower AU Workshop. Most new students will go through Empower AU with their orientation group during Eagle Summit. If you did not attend Eagle Summit or you missed Empower AU while at Eagle Summit, you will need to attend a makeup session later in the semester. Please note: several make up sessions will be held throughout Fall semester.
Step Up
Have you ever witnessed a situation that did not seem right, but you did not intervene and later wished you had? Perhaps you thought you should not get involved, or that someone else would help. Maybe you did not know how to help. In situations where someone might be harmed or is struggling, there is often someone else who notices the warning signs. What if that someone stepped up and helped? What if that someone made a difference in the outcome? Step Up is a prosocial behavior and bystander intervention program that uses workshops and communications to teach community members how to be that someone who steps up and helps others. Launched at AU in summer 2014, in this 90-min training, participants will learn the steps in Stepping Up, strategies to intervene, and personal barriers to intervening. Step Up applies to up to 10 topics - the group will review realistic scenarios for some of those issues and discuss ways to Step Up.
One Love: Escalation
Escalation is a film that honestly and compellingly tells the story of an abusive relationship –– from its sweet beginnings to the tragic end. The authentic depiction of unhealthy behavior escalating into violence helps you understand and recognize the early signs of relationship abuse. The 40-min screening is followed by a 45-min guided discussion.
'How to Help a Friend' workshops
Research shows that when students disclose sexual violence, dating violence, addiction, or other mental health related concerns, they are much more likely to disclose to friends first, rather than to campus administrators or law enforcement. These workshops start with a review of basic content related to the topic area, but mostly focus on how to respond to disclosures in an empathetic and helpful way--whether you know the main person involved or others as well. We also provide an overview of boundaries, self-care, and resources.
'How to Help a Friend' workshops are available for the following areas:
Sexual Violence
Dating Violence
Substance Abuse
General Mental Health
Eating Disorders
AOD Jeopardy
How much do you really know about alcohol and other drugs? This interactive workshop will cover alcohol, marijuana, tobacco & vaping, addiction & recovery, other illicit drugs, and more!
Sex Jeapordy
How much do you really know about sex? This interactive workshop will explore several different sexual health topics, such as birth control, STIs, protection, sexual health in the LGBTQ community, alcohol and sex, and more. By the end of the game, you'll be a sexpert.
Self-Care 101
An integral component to stress management is self-care. This interactive workshop will address the importance of practicing regular self-care and will include activities that help students discover areas of their life that need more attention, negative parts to cut down on, and what type of self-care is best for them.
Don't see what you are looking for? Email hpac@american.edu or book an appointment with a staff member us to talk about customizing a program for your needs!