UC Green Initiatives
The American Dream is Green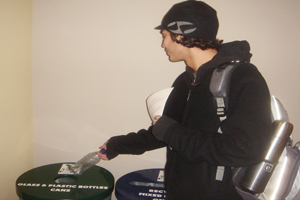 The University Center is committed to the sustainability goals of American University.  The University Center staff works closely with Facilities Management, the Office of the University Architect, and AU Eco-sense to ensure that we are doing our best to help minimize our impact on the global community through our social responsibility to the environment.

Over the past seven years, the University Center has taken steps to show that we're headed in the right direction.  During Phase I of the renovation of the University Center, the second floor was outfitted with motion sensors in the hallways and meeting rooms to save on electricity.  In addition, restrooms switched to waterless urinals.
During Phase II of the University Center renovation process, the first floor of the Mary Graydon Center received an absolute face-lift.  Materials used in the renovation process were recycled from the previous renovation and columns and fixtures were overlaid with bamboo products.  In addition, new recycling bins have been placed around the University Center to increase awareness of our efforts.
In addition to renovation projects, all professional staff members in the University Center office have been eco-certified and efforts have been taken by individuals to help reduce, reuse, and recycle office products in a more efficient manner.
All of these milestones have been made possible through our close partnerships that we have forged with the campus community.  While we are very proud of these accomplishments, we've only just begun our efforts.  Everyone can pitch in a little by helping continue our efforts and show that our American University colors aren't just red and blue, but also a little green.