Construction and Renovation Projects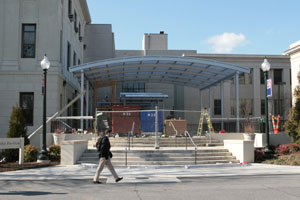 Photo by the Talon Yearbook.












To better serve the AU community as the center of campus, the University Center continuously undergoes projects, both large and small scale.  The last completed project was to construct a canopy over the Butler Pavilion Bridge Walkway, in cooperation with Facilities Management and the University Architects.  The project commenced on January 21, 2009 and was completed at the end of February 2009.

Past Projects
Summer 2008 -
Renovation to the exterior of the front entrance of the Mary Graydon Center and widening of the Bridge Walkway.

Summer 2007 -
Complete renovation of the 1st floor of the Mary Graydon Center, featuring a creation of a University Center Information Desk, remodeling of the Tavern, central relocation of restrooms, and new flooring.