Get to know DC!
Maps and Stats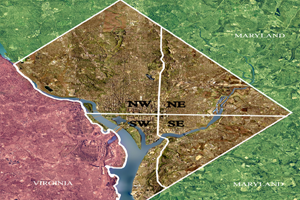 Before you start tutoring you should get to know the community in which you hope to engage. While you will be interacting with a small slice of the city, it may still be useful to read through some quick stats and facts.

Who Makes Up Washington D.C.?
According to the U.S. Census, the number of people living in Washington D.C. is about 617, 996 compared to 311, 591, 917 for the whole United States. The majority of the District is Black 50.7%, followed by 42.4% White, and 35.3% Hispanic with a smaller percentage identifying as Asian 3/7%. Considering that 13.3% of Washingtonians were born in a foreign country and 14.5% speak a language other than English in their home, it is likely that the people you tutor will speak another language besides English.
Poverty and Homelessness in the District
Educational achievement is linked to many things, and poverty and homelessness certainly play big roles. In the District there are over 12,000 people experiencing homelessness, with more than 800 families. According to the Census Bureau, the national poverty rate is 15.1%, or 46.2 million people living in poverty, and Washington D.C. places 3rd in the Nation at 19.9% behind Mississippi and Louisiana. Washington D.C.'s children are hit hard as well; the poverty rate recently increased to 30.4 percent -- that's roughly 30,500 children living in poverty.
Who Makes Up Washington D.C. Schools?
According to the District of Columbia Public School Office of Data and Accountability, the majority of the student population in D.C. is Black at 72%, followed by 14% Hispanic, 10% White, and 4% identifying with another ethnicity. More than half of students qualify for free or reduced lunches (52%), and 10% are English Language Learners. Additionally, 18% of District students require special education services. In the 2011-2012 school year only 46% of DC Public School students scored proficient or advanced in Elementary and Secondary math, and only 45% scored the same in Elementary reading while 42% scored proficient or advanced in Secondary reading. These statistics show that the District needs your help to provide educational enrichment to help boost these scores.
Let's Talk Literacy
According to the National Center for Educational Statistics, literacy is defined as "using printed and written information to function in society, to achieve one's goals, and to develop one's knowledge and potential."
There are several forms of literacy…
Prose literacy is the ability to read and comprehend documents with continuous text, such as newspaper articles and instructions.
Document literacy is the ability to read and understand documents with non-continuous text, such as job applications, maps, and transportation schedules. 
Quantitative literacy is the ability to perform computations, such as reviewing a bill or balancing a checkbook.
Literacy Rates
According to the National Center for Educational Statistics, about 22% of American adults have minimal literacy skills.
Number of Adults…
Below Basic—no more than the most simple and concrete literacy skills-30 Million
Basic- skills necessary to perform simple and everyday literacy activities- 63 million
Intermediate—skills necessary to perform moderately challenging literacy activities- 95 million
Proficient—skills necessary to perform more complex and challenging literacy activities-28 million
Highest Illiteracy Rates By Ward
The below information breaks down the illiteracy rates by ward. For more information on wards go here

Ward 7 50.4%
Ward 8 48.9%
 Ward 5 48.2%
Ward 1 43.6%
Ward 4 42.2%
Ward 6 37.3%
Ward 2 20.8%
 Ward 3 8.2%