The Freshman Service Experience
Interested in Service? Sign up for FSE.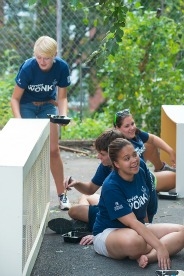 Since 1990, the Freshman Service Experience (FSE) has been a tradition that celebrates the spirit of service at American University. More than 10,000 students have participated, all working to turn ideas into action and action into service for the greater Washington, D.C. community.

The Freshman Service Experience, a welcome week program opportunity open to both first-year and transfer students, is a three night, two day program built on community service, social justice, thought provoking evening activities, and an orientation to American University and Washington, D.C. During the day, student-led volunteer groups work at about 50 different nonprofit work sites throughout the city. In the evenings, participants join other groups for dinner, speakers, and social events.