Monday - Friday 9:00 a.m. - 5:00 p.m.
Center for Community Engagement and Service
4400 Massachusetts Avenue NW
Washington
,
DC
20016
United States
Get to Know the District!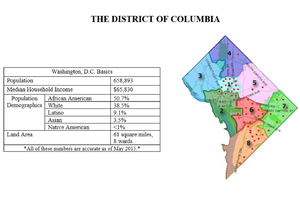 If you would like to see this information and graphic in PDF form, please click here!
Who Makes Up Washington D.C.?
According to the U.S. Census, the number of people living in Washington D.C. is about 617, 996 compared to 311, 591, 917 for the whole United States. The majority of the District is Black 50.7%, followed by 42.4% White, and 35.3% Hispanic with a smaller percentage identifying as Asian 3/7%. Considering that 13.3% of Washingtonians were born in a foreign country and 14.5% speak a language other than English in their home, it is likely that the people you tutor will speak another language besides English.
Let's breakdown some of the issues…
Poverty:
In 2016, 17.3% of the population of DC lived below the poverty level as compared to the national poverty rate of 13.5%. . Additionally, one in ten residents of DC lives in extreme poverty or below 50% of the poverty limit. 32% of female-headed households live in poverty. Poverty levels vary dramatically by demographics with "one in four black DC residents and one in five Hispanic DC residents living in poverty compared with fewer than one in 10 white non-Hispanic residents." (DC Fiscal Policy Institute)
Homelessness:
In 2016, the total number of homeless residents in D.C. increased by 14.4%, from 2015 with a total population of 8,350 individuals. (Community Partnership for the Prevention of Homelessness). DC continues to have the highest rates of homelessness in the country with 119.9 homeless individuals per 10,000 residents compared to the national average of 18.8 ("The State of Homelessness in America", 2015). DC has the highest rates of homeless veterans in the country with 10.8% of the 28,632 individual veteran population. In the larger metropolitan area, 2015 demonstrated an overall decrease in the homeless population to 11,623 individual (2.7% decrease) and chronic homelessness continues to decline slowly.
Unemployment:
National unemployment rate is at 5.5 %; In Washington, DC unemployment is at 7.8 %. The unemployment percentage is 25.2 % in Ward 8, 17.1 % in Ward 7, and 3% in Ward 3. 18% of residents with a high school diploma are unemployed as of 2016 (DC Fiscal Policy Institute).
Education:
In the District of Columbia, 69% of public high school students graduate from public high school. (DC Office of the State Superintendent of Education) DC public schools have the lowest graduation rate in the country behind Oregon and New Mexico (Time, 2015). The education attainment of people in the District of Columbia in 2011-2015 breaks down to 10.7% having less than a high school diploma, 18.0% having a high school diploma, 23.3% having a Bachelor's Degree, and 31.2% having a Graduate or Professional degree. (DC State Data Center)
HIV/AIDS:
There are 13,391 current residents of DC or 2.0% of the population living with HIV. The 2% exceeds the World Health Organization's definition of generalized epidemic. The District has seen a 48% decline of cases from 2001.Blacks and Hispanics with HIV exceed 1% of their respective populations, with blacks disproportionately impacted at 3.2% (District of Columbia Department of Health)