Monday - Friday 9:00 a.m. - 5:00 p.m.
Center for Community Engagement and Service
4400 Massachusetts Avenue NW
Washington
,
DC
20016
United States
From "The Troubles" to Brexit: Peace and Reconciliation in Northern Ireland
Delve into Northern Ireland's peacebuilding efforts following the violent, three decades long "The Troubles." We'll visit reconciliation centers, museums, and schools then return to Washington, DC to combat ethno-religious nationalism to foster deeper roots of peace.
Northern Ireland is a key example of the violence that can arise when identity, religion, and culture conflict -- in this case, "The Troubles"-- and its global response. "The Troubles" is neither an isolated phenomenon nor a direct parallel to similar identity-based conflicts elsewhere. AU students concerned about conflict resolution, diversity, or how actors craft national identities will be interested in exploring these themes in depth to widen their knowledge about the history that led to the conflict and what its resolution signifies in light of Brexit as well as our own forms of rising nationalism today.
Dates of Engagement: March 8 - 17, 2019
Estimated Cost: $1,700 – $2,000* 
*Final cost is subject to change based on the finalized itinerary and program fundraising efforts
Diana Knott is a senior at American University currently majoring in International Studies and French, while also pursuing a certificate in Community-Based Research. Originally from San Jose, California, a city where more than a third of the inhabitants are foreign-born, Diana grew up fascinated by how diverse communities can live together peaceably. In the future, she hopes to work towards fostering long-term peace at a research think tank or as a Foreign Service Officer. Although new to the AU Alt Break, Diana is excited to engage with students through a hands-on experience that will challenge them to question their preconceptions and emerge with new insights!

Elizabeth Ogunsuyi is a Senior in the School of Public Affairs studying Political Science with a concentration in Gender, Politics, & Power. She also seeks two certificates: Women, Policy, & Political Leadership & Spanish Translation. Although hailing from Sacramento, CA, Elizabeth considers D.C. her home for that is where she not only connects with fellow changemakers but, also, is informed of the policymaking process which she aspires to do on Capitol Hill. Having participated in an Alt Break, Elizabeth is excited to lead students on a life changing journey where they are eager to learn, listen, observe, ask questions, and take their knowledge back to AU!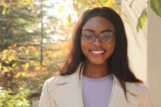 Day 1 - Travel
Day 2 - Dublin Historical Walking Tour
Day 3 - Bus to Glencree, Glencree Peace and Reconciliation Centre
Day 4 - Glencree Peace and Reconciliation Centre
Day 5 - Bus to Derry, Derry Bogside History Tour
Day 6 - Free Derry Museum/Tour, Bus to Belfast, Belfast Black Taxi Tour of conflict mural
Day 7 - Tour Stormont and meet with Members of the Legislative Assembly, Northern Ireland Human Rights Commission
Day 8 - Integrated Secondary School visit
Day 9 - Tour: Giant's Causeway, Carrick-a-rede
Day 10 - Departure 
Apply to the North Ireland Program