Monday - Friday 9:00 a.m. - 5:00 p.m.
Center for Community Engagement and Service
4400 Massachusetts Avenue NW
Washington
,
DC
20016
United States
CUBA: A LOOK AT CULTURE, RELIGION, HISTORY, AND ECONOMICS
Understand the social construction of race, how it operates and what effect it has on the Cuban people by examining their culture, religion, history, and economics with help from community partner Cuba Education Travel and number of community pioneers including Municipal Museum of La Regla, Barrio Habana, Socio-economic planner Miguel Coyula, Reina y Real.
Our key social justice theme is race (with the underpinnings of culture, art, history and economics) within Cuba and the what the real-life consequences are of the social construction of race in Cuba, a country that has not gone through a civil rights movement and is more racially blended in comparison to the U.S. Recently, and for the first time in history, Cuba elected two Black women vice-presidents Inés María Chapman and Beatriz Johnson. This has stirred conversations and debates on Cuba being post-racial and not succumbing to racist policies like its northern counterpart, however systematically Afro-Cubans continue to be disadvantaged and disprivileged. Our goal is to understand this division, while examining Cuba's connection/relations to the U.S. We are working to understand the parallels between the U.S. and Cuba in terms of race and the results of its construction.
Dates of Engagement: March 8 - 17, 2019
Estimated Cost: $3,000 - 3,200* 
*Final cost is subject to change based on the finalized itinerary and program fundraising efforts
Ammarah Rehman (she/her/hers) is a Senior studying International Studies, with a focus on Identity, Race and Culture. Ammarah is a Newman Civic Fellow and has served as a Student Representative for the President's Council for Diversity and Inclusion. She was born and raised outside of Boston, MA and originally from Karachi, Pakistan. As a first generation college student, Ammarah is interested in how the intersection between race and class plays a role in the education system. Ammarah co-led an Alternative Break trip to New Orleans to focus on the lack of equity intersects with poverty and race. She is also the founder of The Muslim Project, an online platform highlighting Muslims from an array of backgrounds in order to fight Islamophobia and the negative stigma around Islam. While on campus, Ammarah is the President of the Muslim Student Association and has led a dialogue about the Muslim American experience through the Center for Diversity and Inclusion. Ammarah is also an AUx1 Peer Facilitator on campus Ammarah has also been awarded SIS women of the year and the Black Eagle award. Over the years, she has interned at National Parks Conservation Association, Peace Corps, AUx and has worked at the Smithsonian National Air and Space Museum. Ammarah studied abroad in Rabat, Morocco to learn Arabic. I am excited to lead a program to Cuba to in order to be educated about a culture and country different from my own!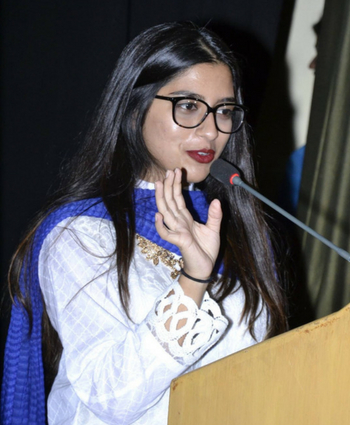 Jenna Caldwell (she/her/hers) is a senior in the School of International Service. Majoring in International Studies, Jenna's thematic focus is Identity, Race, Gender and Culture coupled by a regional focus in Latin America. Jenna is also a BA/MA candidate thus simultaneously earning a bachelor's degree in international studies and a master's degree in Global Media from the School of Communications. Originally from Newark, New Jersey, Jenna currently serves as the Co-President & Editor-in-Chief of The Blackprint, American University's sole magazine dedicated to students of color by students of color. During the 2017-2018 school year, Jenna has served on the executive board of the School of Communication's Undergraduate Council, led an Alternative Break to San Francisco studying mass incarceration and has served as a participant on the Alternative Break to Guyana studying racial and sexuality in the Caribbean. Professionally, Jenna worked as an intern for Voice of America and Capitally DC during this time. Awarded the Nina Baker Feinberg Fellowship by the Sadie Nash Leadership Project, Woman of the Year by Her Campus and the Women's Empowerment Award by She's the First, Jenna's long term professional goals are to study misrepresentation (and underrepresentation) in the mass media of minorities and historically marginalized groups influencing change through her work and findings. I'm excited to lead this alternative break because we all deserve a seat at the table and understanding the social construction of race in a world that isn't so black-and-white will help us to continue to break us down barriers to ensure that!
Day 1- Arrival to Havana, Cuba & Check-in and dinner at homestay
Day 2- Performance by Habana Compás Dance, Lunch with Magia López and Alexey Rodriguez, Visit Callejón de Hamel, Discussion with La Reyna y Real, Dinner at homestay
Day 3 - Rumba lessons, Lunch at homestay, Rumba party, Discussion with Eduardo Roca, Dinner at homestay
Day 4- Discussion with Economist Ricardo Torres, Lunch at homestay, Afternoon with Cuban entrepreneurs, Cooking demonstration with a Cuban family
Day 5- Travel to Matazanzas, Visit Bacunayagua bridge, Visit to the Museum of the Slave Route, Lunch reservation at Paladar Mallorca, Head to the home of Dolores Perez and Los Muñequitos de Matanzas, Return to Havana
Day 6- Discussion with Author Tomasito Fernandez, Visit to the Literacy Museum, Enjoy sandwiches on the Prado Boulevard, Walking tour of Old Havana's Historic Center, Travel to Central Havana, Dinner at homestay
Day 7- Discussion with Roberto Zurbano, Independent Reflection, Travel to Viñales & check-in at homestay, Dinner at homestay
Day 8- Morning hike, farm-to-table experience at local farm, Discussion with the town Historian Ricardo Álvarez, Interactive salsa dancing lessons, Dinner at homestay
Day 9- Explore and reflect on our own and take part in academic activities, Farewell dinner with homestay hosts, Check-out, depart for airport
Apply to the Cuba Program