Monday - Friday 9:00 a.m. - 5:00 p.m.
Center for Community Engagement and Service
4400 Massachusetts Avenue NW
Washington
,
DC
20016
United States
Peacebuilding after Conflict Sarajevo & Mostar, Bosnia and Herzegovina
Still rebuilding from the break-up of former Yugoslavia and the 1992-1996 genocide, Bosnia and Herzegovina (BiH) is an incredible place to observe peacebuilding in action. Against the backdrop of breathtaking landscapes, lively culture, Ottoman cities and the remnants of war, many Bosnians are working on a grassroots level to educate others about the ethno-religious conflict and the dark-side of foreign intervention.
We will be partnering closely with educational, peacebuilding, and non-governmental organizations in the many forms they take, from former soldiers leading war tours, to organizations that are responsible for investigating and reporting on war-crimes. Under their lead, we hope to explore the difficulties and successes that peacebuilding organizations in BiH encounter. This program seeks to foster an understanding of the nuances that lie within the ethno-religious conflict while exploring the systemic factors that led up to the conflict and those that allow tension to continue to today.
As a result of BiH's specific situation, our group will have access to information about the causes of conflict, life during the conflict, the conflict's lasting impact, and ongoing peacebuilding efforts.
In order to disseminate this information within our own DC community, we will be having a week-long activism and advocacy portion of our program immediately once we return to the US from BiH. 
By partnering with local organizations within the DC community that amplify Bosnian voices/experiences and by engaging in remote workshops and case studies throughout the week after we return, we hope that participants apply the knowledge that they learned in the partner community directly to the DMV and their local communities. Having this week dedicated to advocating the needs of BiH citizens within our local communities will ultimately encourage participants to focus on the social justice theme of peacebuilding after conflict while reducing the harm associated with travelling to BiH without further engagement.
Dates of Engagement: March 6 - 13, 2021 (Program in Sarajevo, Mostar), Followed by a week of Advocacy & Activism upon return, March 14 - 22. 
Estimated Cost: $2,500* 
*Program cost includes all expenses, meals, accomodation, and travel costs. The figure listed above represents a conservative, high estimate. Full program cost per student will not exceed this amount. Final cost to student is subject to change based on available travel grants, the finalized itinerary, and program fundraising efforts.
Cedric Starks (He/Him/His) is a Sophomore studying Communications, Law, Economics, and Government in SPA. He enjoys travelling and trying new things, in a quest to enjoy everything the world has to offer. He loves playing most sports and activities because of the opportunity for competition and self-improvement. When he is not outside he loves to wind down with video games. Last year, during his enjoyable freshman year, he visited Bosnia for an alternative break and returned with a renewed sense of duty and excitement after learning how many Bosnians have and continue to reconcile after conflict. He is excited to lead this year's alternative break to share Bosnia's beauty and the exemplary work that many partners are engaged with to reconcile after conflict.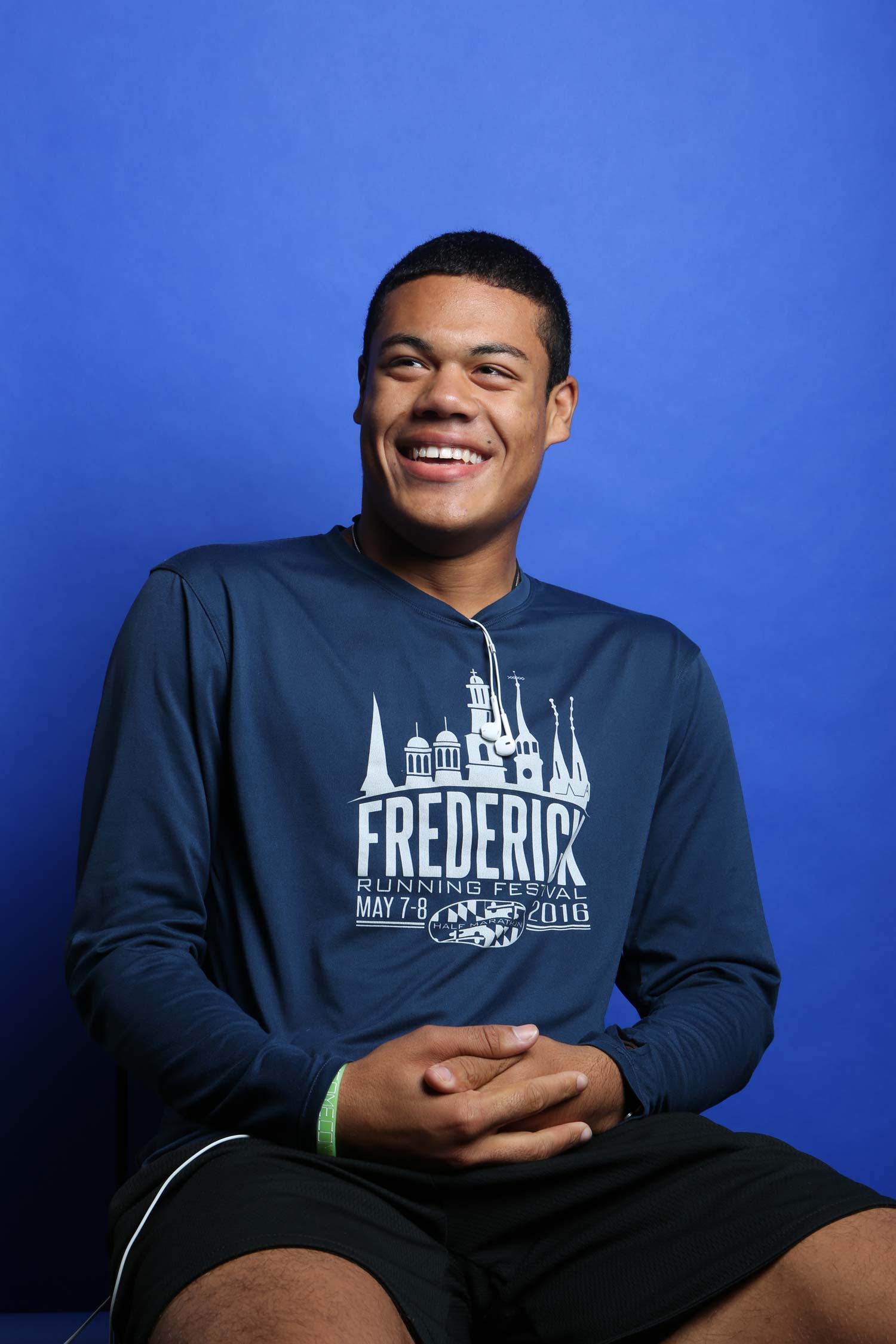 Selma Tabakovic (She/Her/Hers) is a senior and a Politics, Policy, and Law Scholar studying Legal Studies in SPA. Her internship experiences in Washington D.C. have focused on the systemic barriers that individuals face in the U.S. and she is excited to continue to explore these issues in an international setting as well. After attending the alternative break program to Bosnia and Herzegovina in the Winter of 2019, she felt a larger connection to her ethnic community by being able to delve deeper into the conflict while appreciating BiH for its beauty and resilience. As an alternative break leader, she is excited to continue to share the story of those that were impacted by the conflict and the peacebuilding work of key community members and organizations.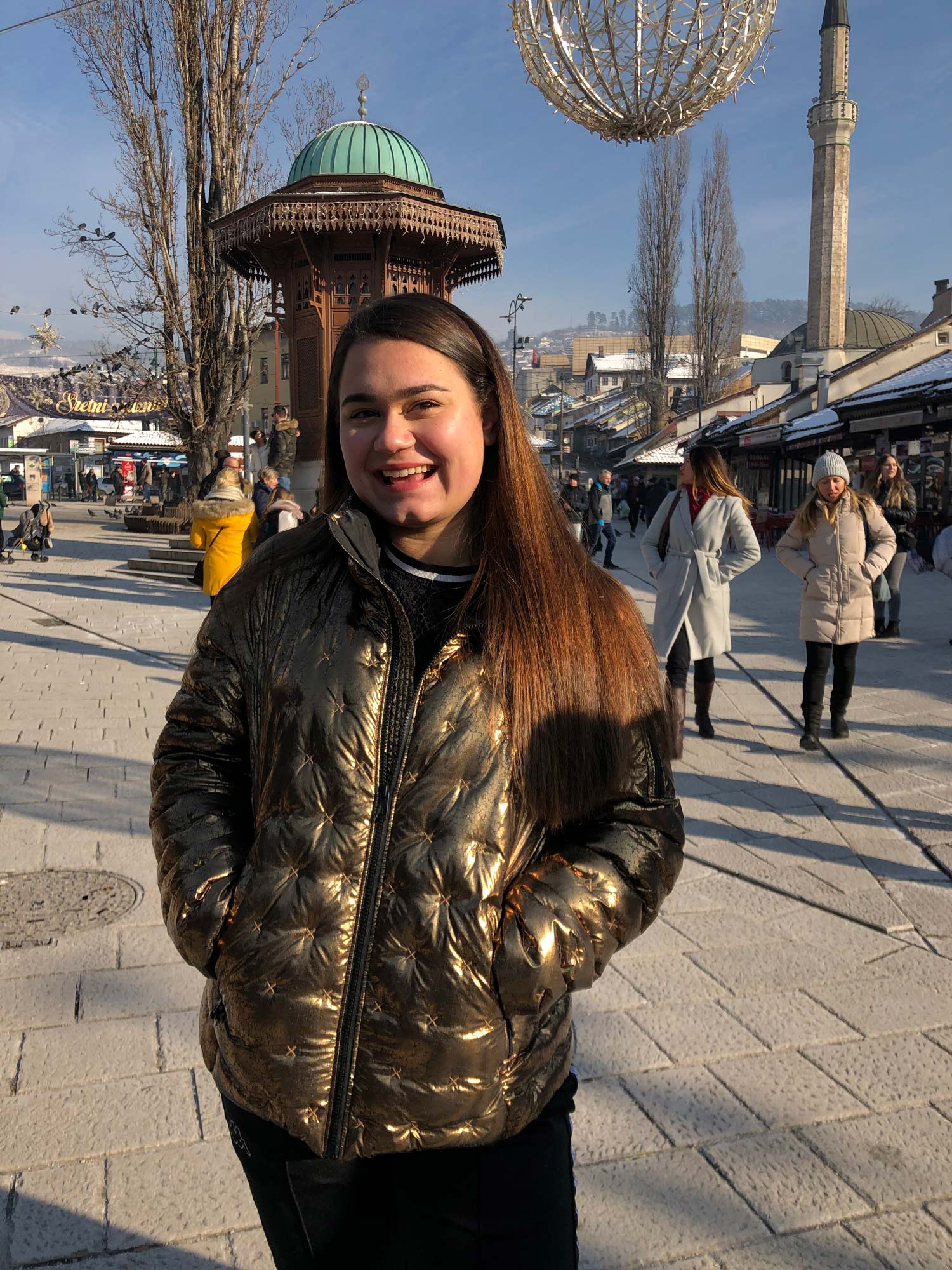 Day One: Arrive in Sarajevo. Explore the areas around Sarajevo and the Ottomon City, including famous WWI sites and Baščaršija. 
Day Two: Explore historic, artistic, and religious institutions in BiH, including the Gazi Husrev Beg museum and mosque. Participate in a workshop with the Center for Nonviolent Action, a peacebuilding organization that facilitates interethnic group dialogues amongst Bosnian, Serbian, and Croatian citizens. 
Day Three: Visit the Srebrenica Gallery in the center of Sarajevo. Travel to the Srebrenica - Potocari Memorial Center and Cemetery. Attend a workshop with the internationally acclaimed non-governmental organization Remembering Srebrenica. Explore the tunnels that allowed hundreds to escape during the Siege of Sarajevo. 
Day Four: Explore the areas around Sarajevo including the famous Olympic Stadium and bobsled paths on Trebevic Mountain. Participate in workshops with the War Childhood Museum and the Balkan Investigative Reporting Network (BIRN), a non-profit based in Sarajevo that reports and investigates war crime trials.
Day Five: Travel to Mostar, see the Stari Most Bridge and participate in a walking and war tour with a former Bosnian soldier. Visit the Center for Genocide and Multiethnic Conflict.
Day Six: Participate in a walking and war tour with a local historian and community leader. Learn more about the peacebuilding efforts and their impact from a local scholar. Participate in a workshop with the Mostar Local Democracy Agency to learn more about peacebuilding efforts specific to Mostar.
Day Seven: Travel to Sarajevo and meet with the United States embassy. Explore Vijecnica, which is Sarajevo's city hall. Have a conversation with the Bosnian Ministry of Education to discuss the differences of educational curriculums around various cantons in BiH.
Day Eight: Return to the US
Following our program, the group will particpate in a structured post trip week of activism and advocacy events in our local DC Community. 
In order to share the learning that we have gained throughout the past week to our DC and campus community, we will be having a week-long activism and advocacy portion of our program once we return to the US from BiH. Please see below a rough outline of our week of post-trip activism: 
- DC Community Engagement - Engagement with a local NGO dedicated to empowering BiH voices following the conflict to determine community needs of BiH citizens in the Diaspora and in BiH. 
- Analyzing genocide - We will go to the Holocaust Museum and observe the Genocide Exhibit. We will discuss as a group the themes of genocide and effective ways to advocate against global hatred, violence, and mass killings. 
- Comparative case studies - We will learn about the BiH Conflict and another genocide from US/UK sources to analyze how US intervention/rhetoric impacts our knowledge of conflicts that occur in other countries.
- Unpacking what we have learned over the past 2 weeks - We will discuss as a group what we have learned, analyze the commonalities and differences between our experiences in BiH and within the DC/our local communities, and unpack the best ways to engage in this form of activism in our daily lives once the program concludes. 
- Activism within the AU Community - We will hold an event or webinar specific to the AU community to bring awareness to the 1992 Conflict and the needs of the BiH community both in Bosnia and within the Diaspora.
Apply Now for Spring 2021 Programs