Monday - Friday 9:00 a.m. - 5:00 p.m.
New Orleans: Exploring Maternal Health - A Public Health Crisis
The US has the highest maternal mortality rate of any industrialized nation at 17.4 per 100,000 pregnancies. However, in Louisiana the maternal mortality rate reaches 58.1 deaths per 100,000, which is the highest in the US. Separate from maternal mortality, women also face postpartum health complications, infant mortality, and the often ignored maternal mental health struggles like postpartum depression. Looking to alternative birth methods, postpartum care, midwives, and doulas, could be key to finally diminishing maternal mortality in the US.
Dates of Engagement: January 3, 2022 - January 8, 2022
Estimated Cost: $1,200* 
*Final cost is subject to change based on the finalized itinerary and program fundraising efforts. Estimated cost includes ALL program expenses including airfare, food, and lodging. 
Felicity Hector-Bruder is a third year student and senior majoring in Data Science for Political Science. On campus she is in the SPA Leadership Program, the Honors Program, involved in Mock Trial, and serves as a Program Associate. She is passionate about resource access for young mothers, student mothers, and marginalized groups. For the past year through various internships, she has done research on student parents and teen motherhood. She is excited to be leading this trip to New Orleans and exploring the intersectionality of this issue and new policy solutions to change maternal health outcomes for our generation. As the next generation of parents, doctors, lawyers, policymakers, and advocates, it is up to us to change this issue.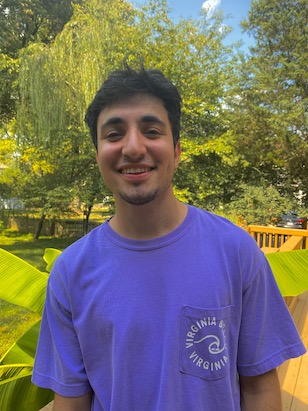 Peyman Owrang is a third-year student from Vienna, VA, majoring in Biology on the Pre-Med track. On campus, he is a member of the AU Honors program and the College of Arts & Sciences Leadership and Ethical Development Program (CAS LEAD). Off campus, he is a Volunteer EMT with the Bethesda Fire Department and a musician for a Classical Iranian Orchestra. An in-class research project jump started Peyman's passion for better understanding issues surrounding maternal health and he is eager to continue this work through Alternative Break in New Orleans. He is excited to lead this Alternative Break and to raise college students' awareness about the realities, hardships, and racial disparities surrounding maternal mortality and maternal mental health.
Day One:  Arrive in New Orleans. Visit the Louisiana State Museum to learn about the history of New Orleans, and explore the city.
Day Two: Meet with Fourth Trimester & Beyond to learn about providing care for maternal mental health. Meet with a maternal health policy expert from the Institute of Women & Ethnic Studies.
Day Three: Meet with a doula to hear about how they help mothers through prenatal and postpartum care and the populations they usually serve. Visit a medical center maternity ward to see the facility and how midwives can be integrated into the health care framework.
Day Four: Meet with a member of the New Orleans Maternal and Child Health Coalition to hear broadly about how they link different maternal health care networks. Volunteer with a local organization that serves new mothers.
Day Five: Shadow a midwife to learn about what their work looks like day to day, and where the field is headed. Meet with Maison Vie and learn about maternal mental health, postpartum depression, and treatment. Have a final dinner in the French Quarter.
Day Six: Return to DC