On Campus
Tech Fair 2012: One stop for all your technology needs!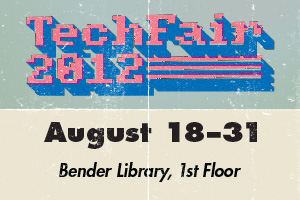 It's time for Tech Fair 2012! The Office of Information Technology and the University Library are partnering to present this event on the library's first floor during Welcome Week and the first week of classes, Saturday, August 18–Friday, August 31. Technology assistance for both students and faculty will be offered.
Get what you need to make your laptop work for you! Students, faculty, and staff can drop by for assistance with:
Eaglesecure, the wireless network

ExpressConnect to protect your laptop

Wireless printing
Email connectivity
Your other technology questions
Bring your power cord with your laptop and let us know how we can help! 
The Tech Fair is open:
Saturdays and Sundays, 11–6
Weekdays, 10–8