Document Imaging Becoming a Reality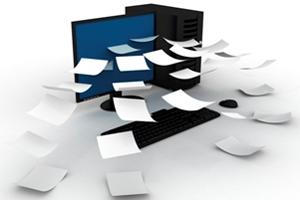 In 2011, a cross-functional working group evaluated several document imaging solutions, based on extensive vendor proposals and product presentations. There was unanimous agreement that Perceptive Software's ImageNow product was the best fit for American University, since it integrates with both Ellucian Colleague and Microsoft SharePoint.
The system allows documents, such as: insurance claims, litigation, contracts, invoices, student transcripts, and financial aid documents, to be scanned, indexed, and stored in a digital format in a central repository. This will help minimize or eliminate the need to print or send files as attachments in emails for review or approval as well as allow users to retrieve documents quickly and efficiently.
There are several separate pilot implementations planned for various business offices to try to help streamline current business processes using document imaging, workflows, electronic approvals and signatures, and other key functions to improve efficiency and productivity.
Here are some highlights of the early projects:
The first implementation was completed in April 2012 for the Office of General Counsel and the Office of Finance & Treasury for their Claims and Legal document repository.


This month, the Office of Enrollment is currently going live with a document repository for Admissions. Old documents from the Domino.Doc system are also being converted to ImageNow.


Accounts Payable will implement ImageNow before the end of the calendar year.


The Office of Enrollment is planning to expand their implementation to include documents and workflows to support Financial Aid.
For additional information about this implementation, please contact the IT Help Desk at 202-885-2550, e-mail helpdesk@american.edu, or instant messenger at AskAmericanUHelp.