Implementing SharePoint Team Sites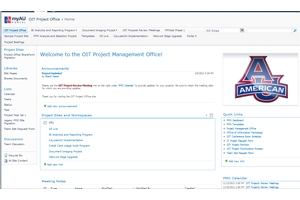 The university thrives on collaboration, whether through formal project teams, informal working groups, special interest groups, departmental management teams, etc. In the past, most of these groups have relied heavily on e-mail messages to communicate, share documents, and exchange ideas. Although e-mail has worked as a messaging tool for these purposes, it is challenging to keep track of related topics simply through e-mails.
Microsoft SharePoint, the technology on which the portal is built, provides a great platform to collaborate through the implementation of team sites. More than 450 team sites have already been rolled out in phases for project teams and departmental committees.
These powerful tools can be used for collaboration among research faculty with a specific interest, staff working on project teams, budget committees, departmental committees, and more.
Three training courses have been developed to support this initiative:
Introduction to SharePoint 2010
SharePoint Advanced Contributers
SharePoint Team Site Administration
For additional information about Team Sites, please contact the IT Help Desk at 202-885-2550, e-mail helpdesk@american.edu, or instant messenger at AskAmericanUHelp.