Increased Internet Bandwidth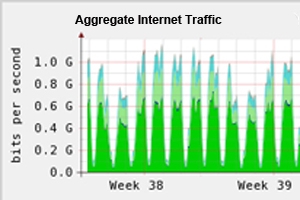 In an effort to stay ahead of the growing demands on the technology infrastructure, OIT completed several infrastructure-related projects to improve the performance, reliability, and availability of the campus network.
One of the most important improvements made during the past year was to deploy a new network edge infrastructure to include new border routers, new firewalls, and upgraded redundant Internet connections. These improvements have increased the university's Internet bandwidth from 800Mbps to 2,000Mbps, providing 250 percent more throughput for the user community.
This improved infrastructure also positions AU for future Internet bandwidth and capacity growth to 10,000Mbps when necessary. We constantly have to keep planning for the next upgrade of bandwidth as AU is already consistently using 1,200Mbps; and we expect that number to keep growing.
In addition, several improvements were made to the campus networks, including cabling upgrades for Osborn building and the broadcast center, deploying redundant wired and wireless network connectivity for the library and for 3201 New Mexico Avenue and making Internetwork Operating System (iOS) upgrades to all access-layer switches across campus.
OIT also provisioned 120 uninterruptible power supplies in network closets to ensure power protection and reliability to the network access layer.