Modernizing Our Virtual Private Network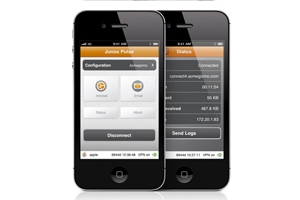 Purchased in 2006, the six-year-old socket layer Virtual Private Network (VPN) Gateway has been a stable, secure, and user-friendly platform for our customers. It has offered them a secure way to connect to the AU network and work remotely via the Network Connect VPN client. It also allows AU to enforce the IT Security Policy, requiring that desktop and laptop computers undergo a network health check prior to connecting to the AU network.
With the recent network architecture changes and the increase of mobile devices, it was necessary to refresh the VPN. At the start of the fall semester, we upgraded the VPN to a new hardware and software version.
This version supports a new application, called Junos Pulse, which is being piloted now. Junos Pulse works like Network Connect; but, it also allows Apple iOS and Android devices the ability to install the client access the VPN. Installations instructions are available online at http://www.american.edu/oit/network/VPN-Mobile.cfm.
Please note: the existing Network Connect client will continue to work.
For additional information about this upgrade, please contact the IT Help Desk at 202-885-2550, e-mail helpdesk@american.edu, or instant messenger at AskAmericanUHelp.