Department Success Story
Unsung Heroes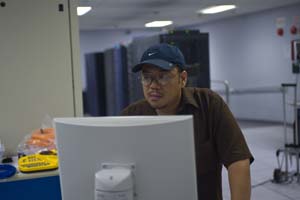 Many AU students, faculty, and staff enjoy the occasional "snow day" or University holiday. It's a time to relax, enjoy time with your family, and catch up on business. You may not realize that there is one special group of employees within the Office of Information Technology that are on duty, 24 hours a day for all 365 days per year. They are our Network Operations Center (NOC) team.
The NOC analysts pack clothes and food, when the forecast warrants it, and plan to sleep over, if necessary, to monitor AU's data center and enterprise systems to ensure all are functioning properly. They spring into action when a problem arises to either take steps to remedy the issue themselves or alert the appropriate engineers.
The NOC analysts also respond to urgent Help Desk support requests by phone or e-mail, after hours, and on weekends or holidays. It is great to know that they are always there, behind the scenes, monitoring all of our enterprise systems and network components. They are truly our unsung heroes.