Reilly Scholarship Winner Pursues Career in Environmental Policy
By April Thompson
May 13, 2013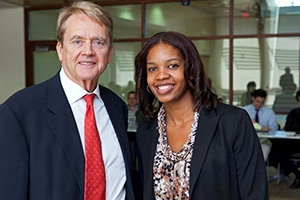 Kristina Bell was one of three graduate students to receive the 2013 William K. Reilly Scholarship from AU's Center for Environmental Policy. The new scholarship, named for the pioneering environmentalist and former administrator of the Environmental Protection Agency, will help Bell pursue her interests in the environmental and social dimensions of sustainable development.
This honor sparkles atop Bell's record of scholarship and a variety of learning experiences and challenges.
Bell, SPA/MPA'14, doesn't see the world through a single window. Nor does she approach her own calling—helping create sustainable opportunities in the developing world—from a narrow path.
On her journey to a master's in public administration, Bell has worked for an international nonprofit organization, the Egyptian arm of a private multinational company, and a local DC government agency – experiences she all sees as complementing her formal education.
"I'm interested in global policy and international development – for example how global governance structures can help promote international development through economic and social standards," said Bell. "But there are many different routes to that. If I've learned one thing, it's not to narrow my options or my outlook."
Since arriving at AU, Bell has taken on three internships that have helped enrich her classroom learning with real-world experience. In 2011, Bell joined PriceWaterhouseCoopers Egypt, working as a corporate engagement manager on an initiative to encourage blood donations through corporate partnerships.
"It was challenging, being an American intern cold calling companies like Coca-Cola Egypt," said Bell. "I had to work through language and cultural barriers, but it was a tremendous learning experience."

Bell also interned for the Global Business School Network, a nonprofit that aims to level the playing field for higher education. Bell helped develop and implement a survey of about 300 schools worldwide to gauge the demand for an online PhD program.

To round out her experience, Bell took on an internship this spring at the DC Department of Housing and Community Development.
"I wanted to understand how the public sector operates. It was a totally different experience, working with a government bureaucracy," said Bell.
Bell, who played Division I basketball as a business major at Fordham, also managed to find time to play on an intramural league to blow off steam in between classes.
"Basketball has taught me a lot of valuable skills. You have to know how to manage your time and energy, maintain your work-life balance, and plan ahead," said Bell.
"Teamwork is also important, especially learning how to bring out your teammates' strengths and help them realize their value. Everyone has a piece of the puzzle."

This summer, she will pack her bags for Malaysia and Indonesia, as part of an SIS class, Globalization, Governance and Human Security in Southeast Asia. She and her classmates will spend three weeks in Kuala Lumpur and Jakarta, taking classes and conducting cultural and professional site visits.

These experiences have all enhanced the multi-faceted education Bell has received at AU.
"The diversity of professors and their eclectic professional backgrounds has been extremely valuable," said Bell. "So has being in the classroom with students with experience and knowledge about different issues. I learn just as much from my classmates as from my professors."