Thomas J. Minar
Vice President of Development and Alumni Relations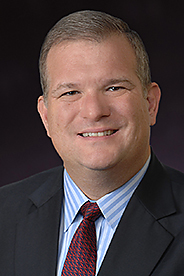 Dr. Thomas J. Minar joined American University as vice president of development and alumni relations in October 2008. He works closely with the university leadership, school and colleges, alumni, and Board of Trustees to support AU's strategic priorities, attract new funding, and build lifelong relationships between AU and its 100,000 alumni. Minar oversees a staff of 40, comprising AU's central school and college development staff, alumni programs, annual giving, development communications, information services, planned giving, university-wide initiatives, and research and stewardship divisions.
Dr. Minar has more than 20 years of leadership experience in institutional fundraising, alumni relations, external affairs, and higher education administration. Prior to coming to AU, Dr. Minar worked at Roosevelt University, in Chicago, where he served as vice president and, most recently, as a special assistant to the president. As the chief advancement officer for Roosevelt, he planned, restructured, and managed the development and alumni affairs operations.
From 1999 to 2003, he was vice president for development and external affairs at Chicago Theological Seminary, where he also was an adjunct professor of religion, political science, and management, and was assistant secretary to the Board of Trustees. Previously, he was director of development for the Chicago Council on Foreign Relations, associate dean for external affairs and chief development officer for the University of Illinois College of Commerce and Business Administration, and assistant dean and director of alumni relations at Northwestern University's Kellogg School of Management.
Dr. Minar earned a doctorate in political science from Northwestern University, master's degree from the Kellogg School of Management at Northwestern, and bachelor's degree from Pomona College, where he is currently president of the alumni association.