Dear AU Community, 
Welcome back to campus!
To those students, faculty members, or staff who are new to our community, welcome to your new campus home.
It's always a little tough settling into a new place. I know how you feel having just moved in June. Already, I'm starting to run into some familiar faces when I walk through the quad, as I did in our new welcome video.
I'm sending this email to kick off a new approach to staying in touch. I plan to write you regular letters to let you know directly what's going on around campus and share with you the progress we're all making together.
I hope you'll read these updates and let me know what you think. If you see me around campus, please share your thoughts with me or send me a note at president@american.edu.
President Burwell's Fall 2017 Welcome>
2:27
I'm catching up with students on the quad in our welcome video for new students.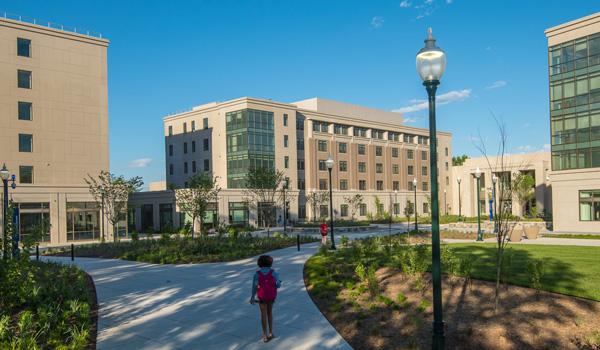 Improving the Student Experience
Open communication is great, but if it's going to be truly effective, we need to act on what we hear. A number of the actions that we are taking to enhance the student experience come from a campus-wide effort called RiSE (Reinventing the Student Experience):

Eliminating Lab and Course Fees
Students can now take required and elective courses without paying any additional course/lab fees. The new policy does have a few exceptions, like travel courses (study abroad, out-of-state, or AU Scholars) and certification courses.
Creating New Spaces
The new Don Myers Technology and Innovation Building on East Campus is home to more than 70 faculty and staff, including the departments of Computer Science, Physics, and Mathematics-Statistics; the AU Game Lab; the AU Center for Innovation; and the Collaboration Lab. Its 14,000 square feet of instructional space includes ten new rooms ranging from seminar spaces to large classrooms for sixty students. The building is a place to study the creative and practical potential of play, turn innovations into entrepreneurial ventures, and make prototypes. STEAM Works, our new makerspace, is equipped with everything from laser cutters to 3D printers to sewing machines.
With East Campus, the university has added many new meeting spaces. Constitution Hall's first floor has more than 3,200 square feet of new meeting and event space that seats up to 300 people, theater style. Congressional Hall has four new conference rooms that seat eight to eighteen people. You can email conferences@american.edu to reserve the meeting spaces from University Conferences and Guest Services, or visit their offices on the first floor of Congressional Hall. While you are there, I invite you to take advantage of the benches and gardens that are part of new campus's beautiful landscapes.
The Bridge in Mary Graydon Center is a new social and study space with refreshments and expanded hours. It is a place to relax and have fun and will feature trivia nights, open mics, and other small performances and events to entertain you. We expect it to open on September 8. Just outside the Bridge will be lots of new furniture and power outlets, where you can hang out, study, and visit with friends.
Restructuring for Efficiency
It's never easy as a student to have offices spread all across campus, nor is it easy as a staff member to serve students efficiently if you have to work with a department on the other side of campus. That's why we have just created a new Center for Undergraduate Experience, located on the first floor of Anderson Hall. It brings together the offices for the dean of undergraduate education and vice provost for academic student services; Academic Learning Communities; Housing and Residence Life (HRL); and Orientation, Transition, and Retention (OTR).
This restructuring is one of the ways we're trying to remove physical barriers for students, enhance relationships between departments and staff, and centralize support and outreach for students' parents and families. The new One Card and Dining Services department, now open on the first floor of Mary Graydon Center, is another example as we consolidated two departments to improve satisfaction with the dining program.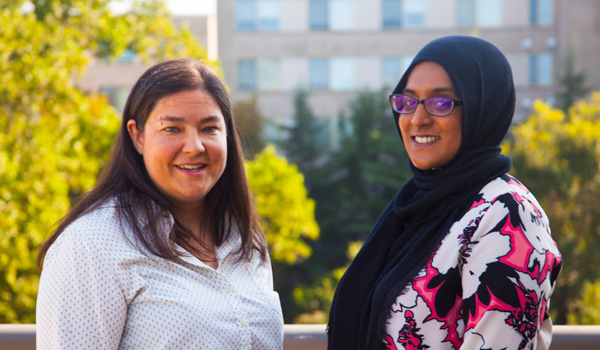 Our Campus Community
Our campus's focus on diversity is our strength. You'll meet people with life stories different from your own. You'll hear new ideas. You'll challenge some of your own preconceived notions. You'll learn from each other, and together, you'll find solutions that are better than if you had pursued them alone. Yet, this inclusion takes effort to protect and maintain.
So here are a few ways we're building a safer, more inclusive community:
Improved Title IX Process
Title IX covers all reports of sex- and gender-based discrimination, including sexual assault, rape, stalking, sexual exploitation, dating and domestic violence, and sexual harassment.
Whenever we receive a report about a student accused of committing one of these behaviors, we will resolve it through a new, streamlined process effective August 1. A trained investigator will assess all relevant information and make a finding of responsibility based on a preponderance of the evidence.
We're making this change from the hearing model we used before because the new model is more student-centered and allows for a more timely resolution of cases. You can find information on the new investigation process at www.american.edu/titleix under "Title IX Complaint Protocol-Student Complaints Against Students."
We also have two new staff members joining the Title IX Office: Regina Curran and Fariha Quasem. You can welcome them at Title IX Tuesdays this fall in The Bridge.
Feel free to contact the Title IX Office at titleix@american.edu or Butler Pavilion, fourth floor (Office of Campus Life) with your questions.
Attention to Diversity and Inclusion
This summer I've spent time speaking with students, faculty, and staff about where our campus is today, and what steps we can take to align this special community with our ideals. In July, I shared some of what I've learned and the progress we've made.
Among the changes are a new diversity and inclusion website, an assessment of the AUx2 pilot course on race, identity, and inclusion, and an Anti-Defamation League briefing on bias incidents and hate crimes that led off summer training. We've also hired Dr. Makeba Clay, who will consult with us on a new plan based on a model of inclusive excellence. More measures of progress are below.
Please share your thoughts or ideas about our work to create a more diverse and inclusive community at DICouncil@american.edu.
Welcoming New Faculty Members
We've made some early significant progress welcoming new faculty from diverse backgrounds over one year of hiring. Incoming tenure-line faculty are 44 percent self-identified people of color, with slightly more than one of every four self-identifying as black or African American. Yet, it will take a sustained effort over years to increase the overall representation of faculty of color.
Among the many we're welcoming this fall, I wanted to highlight two: Dr. Ibram Kendi, professor of history and international relations, and Dr. Kareem Jordan, associate professor of justice, law, and criminology. The youngest scholar ever to win the National Book Award for non-fiction, Dr. Kendi will establish the Anti-Racism Research and Policy Center. Dr. Jordan's deep scholarship on race/ethnicity and criminal justice issues will help his collaboration with local and state criminal justice/social service agencies.
Update on Hate Crime Investigation

The investigation into the racist hate crime that occurred on our campus in early May is active and ongoing. The AU Police Department (AUPD) continues to work collaboratively with law enforcement partners at the FBI and the US Attorney's Office for the District of Columbia. AUPD briefs me frequently and regularly on the status of the investigation.
I want to thank everyone who provided information through our tip line. AUPD has followed up on those tips and continues to conduct interviews. If you were near Letts Anderson Quad, Mary Graydon Center, or McKinley Hall around 4 a.m. on May 1, 2017, and have recollections or information to share, go to the Public Safety Tip Line or call 202-885-2999.
Charlottesville and Campus Safety
The tragic, violent events in Charlottesville, Virginia, remind us that those values we cherish, including diversity, inclusion, mutual respect, and freedom of expression, must be carefully protected, especially from those who would use violence and fear as weapons.
Hate, bigotry, and violence are not American values. We reject them.
The racism and anti-Semitism expressed by white supremacists should be condemned by all corners of American society.
Guided by our values, AU embraces practices that unite, include, and promote greater understanding and reject those that divide, exclude, harm, and encourage discord.
AU is our community, and we have taken extra efforts to protect it. These actions include
reviewing and improving our protocols for responding to bias incidents and hate crimes and managing demonstrations to protect both free expression and participants' safety
responding to and communicating more efficiently during emergencies by moving the AUPD and risk management office into the Don Myers Technology and Innovation Building, now home to the university's new Emergency Operations Center (EOC)
providing 600 campus security cameras, alarms, blue phones, access and access control, and the Rave Guardian app that helps you alert family and friends if you're walking alone
taking emergency and non-emergency calls through our communications center and sending emergency alerts
adding police radios and cameras to AU shuttle buses
I hope our new class enjoyed their convocation today. I certainly did.
I am looking forward to getting this new school year started together.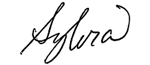 Sylvia M. Burwell
President, American University