Autumn and fall classes are both coming to a close on campus, which means, like students checking back through their class notes, it's a good time for us all to reflect on the past semester. Usually in these letters, I try to find an AU student, alumnus, faculty, or staff member to highlight. Today, I want to highlight 34 of them.
Specifically, that's 24 members of this community who, just last month, were either re-elected to local, state, or federal office, or won election for the first time. And 10 who lost their run for office. These fellow Eagles raised their hands and said they're willing to serve. In the coming months, they'll be walking into offices from a local neighborhood commission to state houses across the country, even into the halls of the United States House of Representatives. They'll serve in the executive, legislative, and judicial branches, covering from Maine to Minnesota, Florida to California. Many of them are serving right here in the Washington, DC area. And I know the ones who didn't win will find new ways to stay involved in their community, and give back.
I mention them here because they're a reflection of our university's broader commitment to making change and serving others. Whether by running for elected office, serving in far off places with the Peace Corps, or finding ways to enhance our quality of life and share powerful stories through the creative arts, our community is infused with a passion for making change.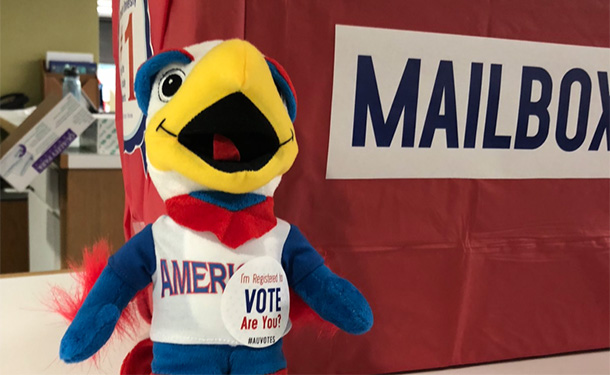 Mini Clawed kept watch over an absentee ballot mailbox in the AU Library on National Voter Registration Day. Thanks to Eagles Elect for helping so many of our students vote!
In a little more than a week, our newest graduates will continue that tradition, finding their own way to contribute, and joining that long line of American University changemakers that stretches across the country, and around the world. I can't wait to see where they go next.
Commencement
Speaking of commencement, congratulations to the more than 600 Eagles who will be graduating at American University's 136th Commencement Ceremony on December 16th! Visit our commencement website for helpful information on this important day.
If you're one of these graduates, the final few weeks before graduation can be a hectic time. That's why our staff has helpfully pulled together a short commencement countdown to help you stay organized. That way, you can spend more time enjoying the last few days on campus with friends, and less time scrambling to find out how to pick up your cap and gown.
Finally, whether or not you can join us in person for commencement, I hope you'll at least join the livestream to hear from our amazing speaker and my dear friend, Dr. Helene Gayle. She's the CEO of the Chicago Community Trust, one of the top community foundations in the world, and has spent her career finding new ways to tackle some of our most longstanding challenges in development, health care, and humanitarian aid. And as someone who has been on the front lines of the battle against HIV/AIDS from her roles at the Centers for Disease Control and Prevention and the Bill and Melinda Gates Foundation, she has a unique appreciation in the progress we've made, and the work we have ahead as the world just marked the 30th Anniversary of World AIDS Day.
Follow along with the livestream on the commencement website or on social media with #2018AUgrad.
I hope to see you at the final 2018 Pop-Up Study Break this afternoon!
Good Luck!
Finally, I want to just end by wishing everyone good luck. I know this is the final sprint of the fall, and it can be stressful, so let me send my encouragement to our students finishing strong on their classes and their final exams, to our faculty with the research papers and exams to grade, and to all of our staff who keep this campus moving forward as we wrap up one semester and transition into the next. I hope there's some hot chocolate waiting for you at the finish line (that's a metaphorical finish line. If you're at a real finish line because you're running a race this holiday season, hot chocolate would be a poor choice…).
You all make me proud to call myself part of the AU community.
And if you're on campus today, swing by our final Pop-Up Study Break of 2018 from 2 'til 3 p.m. on the Mass. Ave. Lawn, across the street from Katzen!
Happy Holidays,