I hope everyone had a good Thanksgiving.
I am at a university, but classroom learning is rarely something I get to do. Going to class is not something the president is able to put on her to-do list. I definitely learn each and every day from our faculty, staff, and students, but it is most often not in the classroom.
You probably aren't surprised to learn that I loved going to class. I liked to listen and learn, and read and prepare. I even liked taking notes, (and using parentheses to indicate where I disagreed with the professor!)
All this is one of the reasons a recent SIS event was so special to me. We gathered to honor the life of the late Dr. Mohamed S. Farsi, philanthropist and former mayor of Jeddah, Saudi Arabia, who is credited as the "father of modern Jeddah." Dr. Farsi's legacy lives on through the Mohamed S. Farsi Foundation, led by his son and AU trustee, Hani Farsi. The foundation funds scholarships to support cross-cultural understanding, as well as The Mohamed Said Farsi Chair of Islamic Peace, held by SIS professor Elizabeth Thompson.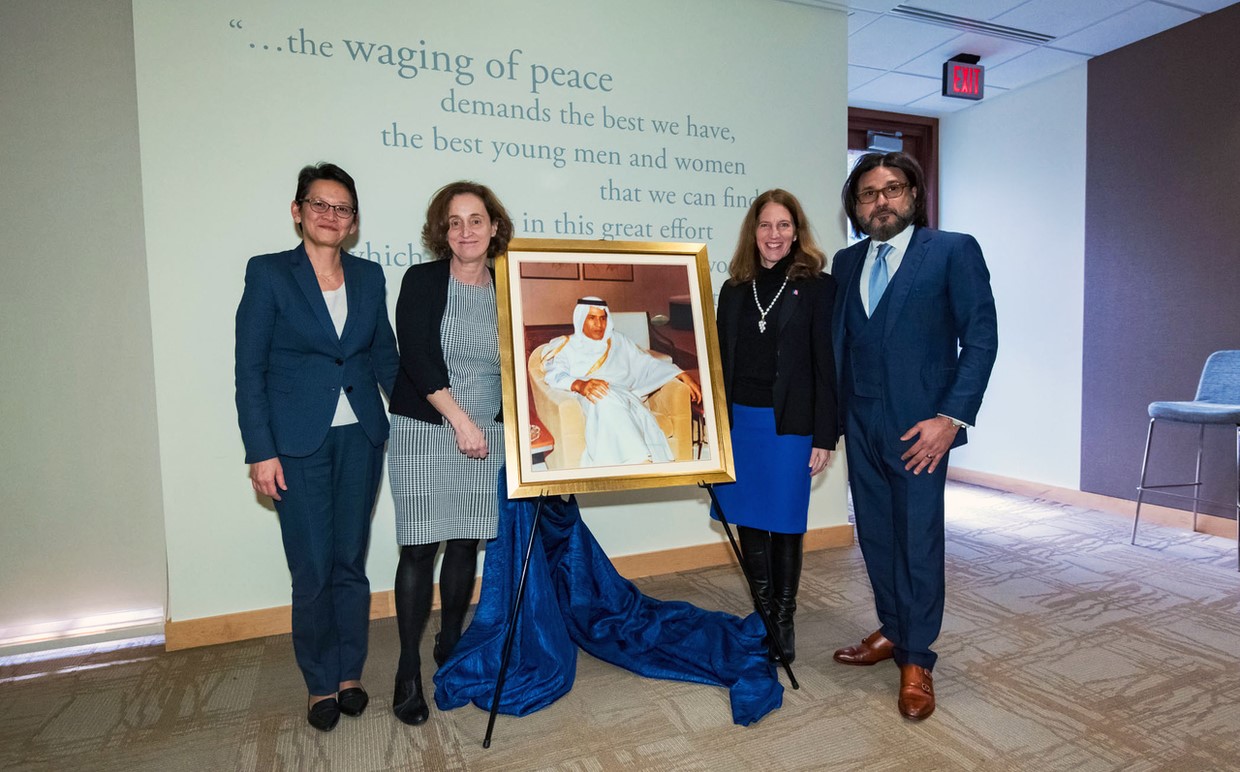 (L-R) SIS Dean Christine Chin, SIS Professor Elizabeth F. Thompson, AU President Burwell and AU Trustee Hani Farsi, SIS '92 at a recent event honoring the life of Dr. Mohamed S. Farsi, pictured in the portrait.
Dr. Farsi was not only a transformative mayor, he was also someone always striving for education. So it was fitting that, we honored him with three short lectures on "Civility in the Arab City" moderated by Dr. Thompson with great scholars of Middle East cities from Columbia University, Berlin, and our own SPA professor Diane Singerman.
For a moment, I felt like a student again and boy, did I enjoy it. Thanks to our scholars, and those from the other institutions, I learned about the concept of "Dubaization" – or the rapid development of a region, often without regard to history and culture. I learned how cities across the Arab world are wrestling with complex social and economic forces, and how a community can continue to make progress even as the outside world presents new challenges. I also learned, from Dr. Farsi's example, the importance of the arts. As he said, "beauty is part of a community."
That's true with our community as well. And as our community goes into commencement, I hope our new graduates will do three things. Always love learning, contribute and be a changemaker, and remember "Once an Eagle, Always an Eagle."
---
Commencement
Congratulations to the more than 700 Eagles who will graduate at our 138th Commencement on December 15! You have so much to be proud of, and I can't wait to celebrate this accomplishment with you. If you have any questions between now and commencement, be sure to take a look at our commencement website.
If you can't be there in person, I hope you'll watch the livestream on the commencement website or follow us on social media (#2019AUGrad) to hear from our honored speaker, former Philadelphia Mayor Michael Nutter. Mayor Nutter has been a longtime advocate and example of committed public service, and someone who had the pleasure of serving as mayor for his own hometown. I know he'll have some important insights to share.
---
Thank You
Finally, I want to say good luck on your finals, and thank you for everything you have done for our community this fall. You can see some of the bold steps changemakers across this campus have taken in our university's new annual report. I hope you'll read it and share some of the stories that inspire you.
A few weeks ago, we gathered for the naming ceremony for Duber Hall and the Bernstein Lobby. Wrapped up in those ceremonies were so many stories of this special community – how alumni can empower and lift up our students, and how the friendships (and yes, even AU sweethearts) made on this campus can last a lifetime. It helped me reflect on how special this place is. And, as always, how proud I am to call myself your fellow Eagle.
And the Burwells are happy to welcome a new Eagle to the family this weekend - a new puppy named ZuZu! Stay tuned for more ... pupdates ...
Happy Holidays,