Every so often, someone outside of higher ed will ask me, with good intentions, "isn't it nice that everything at the university slows down for the summer?" I have to laugh. While I hope everyone does find an opportunity to take a break and recover, work across this community certainly doesn't slow down in summer. It's different, but no less impactful.
Summer gives us one more chance to look back on the last academic year. For me, that means reflecting on the impact we made as a community during commencement. They can be tiring, but to me, commencements are some of the most rewarding days on this campus. Every student who walks across that stage brings with them a personal story that could fill a book. Over the course of that weekend, and with WCL's graduation the following weekend, I saw more than 2,700 AU graduates enter a new chapter, as more than 20,000 family members and guests cheered them on.
Congratulations to the class of 2019! 
The summer season also gives us a chance to look ahead. That means welcoming our newest Eagles and their families at our Eagle Summits and the Summer Transition Enrichment Program (or STEP), where I joined in a few icebreakers one morning on the quad. (Anyone else a fan of the icebreaker game "All My Friends"?) Looking ahead also means planning out our long-term strategy around development and fundraising secure the resources that will open new opportunities for the university. And for each of us individually, summer gives us a chance to work with managers and staff members on performance management plans and setting goals for the year to come.
Summer, as many of you know, also gives us work to do today—as we have many students on campus for their summer internships, faculty and staff preparing for the next academic year, and leaders and thinkers on campus at summer conferences and events.
In short, it's not a slow time. For all of you working hard through the Washington heat and humidity to help AU keep delivering impact—thank you.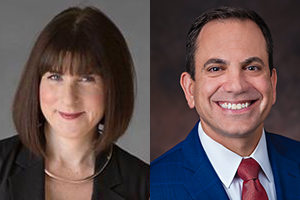 This June, as we've welcomed a number of new Eagles to campus in our Eagle Summits, we've also welcomed back a couple of returning Eagles who will make an impressive impact in the months and years to come and celebrated one of our great Eagles stepping into a new role!
First, our Sine Institute of Policy and Politics just welcomed its inaugural executive director, Amy Dacey. Amy brings diverse leadership experience from across sectors, with prominent national organizations like EMILY's List, top elected officials and candidates like John Kerry's campaign for the presidency, and a variety of nonprofits and other institutions like the nonpartisan National Foundation for Women Legislators. Amy also earned her master's from SPA.
Next up, a Double-Eagle. Matt Bennett earned both his bachelor's and his master's degrees from SPA, and he has hit the ground running as our new vice president and chief communications officer. Matt joins us from the Motion Picture Association of America, where he led their worldwide communications and digital enterprise, and he brings to AU the insights and expertise from an exciting career in communications and public affairs.
Finally, as SOC Dean Jeff Rutenbeck leaves AU to take the helm as provost of Arcadia University (another "AU"), SOC's Professor Laura DeNardis, a former associate dean of the school and winner of the 2018 Scholar-Teacher Award, will step into a new role as interim dean of the School of Communications. Dean Rutenbeck leaves some big shoes to fill, but I know that interim Dean DeNardis will do a fantastic job.
It's great when Eagles come home, and it's exciting to celebrate new leadership at SOC. I hope you'll join me in giving a warm welcome to both Amy and Matt, and congratulations to Interim Dean DeNardis!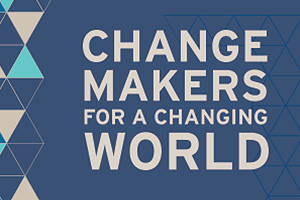 Just one year ago, we were still working on the strategy that will guide American University for years to come. Now, we're six months into implementation and already making an impact.
We have brought on leaders for key parts of the strategy—Matt Bennett to help us tell AU's story, Ed Fisher to help us work with DC and our regional partners, and Amy Dacey as an example of a university-wide center charting a course for AU's future.
We're also making progress on how AU works. In the fall, we'll have information on some exciting new HR initiatives and work is underway to assess the utilization of our physical space on campus.
We've begun overhauling how we support research at AU through Provost Dan Myers' reorganization efforts.
We're building on our partnerships in the DC region and working to enhance the student experience through the launch of our new digital technology credential in the fall, a credential developed in collaboration with the Greater Washington Partnership.
In these areas and more, we're using the summer to celebrate milestones, learn from our work, and keep our focus on our goals. Stay tuned for more updates this fall.
The summer months also feature important progress on our journey toward inclusive excellence. Specifically, that means identifying the goals for Years Three through Five of the inclusive excellence plan, at the same time we're making progress on our Year Two Goals.
This plan has always been grounded in our collective ambitions and priorities for AU, which is why we're looking forward to making sure the community is engaged in helping us set these goals. Keep an eye out for more communication on this in the fall.
In the meantime, we're also celebrating inclusion in the arts through the wonderful exhibits at the American University Museum at the Katzen Arts Center this summer. From features on the black church's role in social change in Montgomery County and DC to art that weaves in stories from Taiwan, the Philippines, and Jamaica, the halls of our own art museum are a testament to the rich—and colorful—tapestry of inclusion.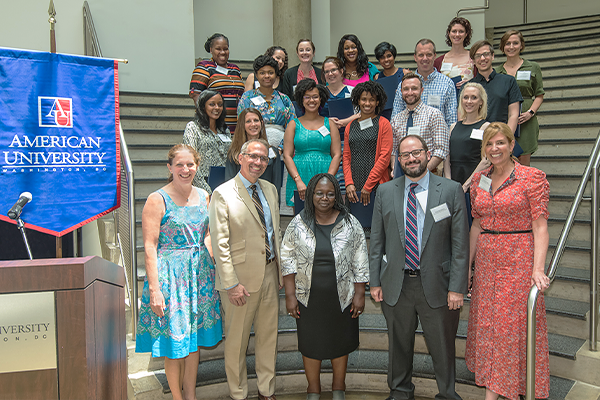 One of the joys of summer is the time we take to celebrate our incredible staff who keep this community running all year long. I was able to hear some amazing stories as we welcomed the new members of our Twenty-Year Club, and I enjoyed seeing all the Staff Performance Award winners at our Years of Service celebration. You should take a look at all of this year's winners, but I wanted to highlight one team in particular.
Our work on inclusive excellence is a collective effort, one that requires us to engage in open and thoughtful conversations, and our AU Connects team has proven that this community is up to the task. These volunteers from across the university have prepared to serve as facilitators, creating a constructive space for conversations around issues of diversity and inclusion. Inclusion and belonging require openness, and the staff members on this team have dedicated themselves to creating opportunities for us to get to know each other in deep and meaningful ways, which will help us continue this important journey, together.
On a lighter note (although heavier in the calories), I also want to congratulate all of the winners of our delicious staff cupcake challenge—the "Succulent & Sweet Strawberry Chocolate Cupcakes" by Amy Marrion, the "Most PheGNOMEnal Cupcakes Ever" by Sarah Goldberg, and as a proud second-generation Greek American, I have to give a special shout-out to the fan favorite: "My Big Fat Greek Cupcake" by Georgia Sideris. As I always say, "give me a cupcake, any cupcake, and I'll show you that the root of that cupcake is Greek."
Have a great rest of your summer!